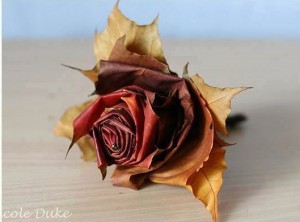 I found these easy DIY fall leaf roses on Facebook but the person who posted it was not the girl who created it, Nicole Duke. I did a Google search for Nicole Duke's fall leaf roses and nothing came back directly about her but I LOVE this idea and had to share the video with you! It reminds me of the flowers my mom showed me how to make when I was a kid using leaves. I can picture these as a table centerpiece for Thanksgiving or a wedding. It's a great autumn decoration. My family had a fun time using the fall leaves for roses and we are sure you will too!
She used the wrapping floral shops use to keep it all together. I remember mom using the stem of a leaf but for long-lasting durable leaves, you may want to use another material to wrap the base with. If it's going to be in a vase, any tape would do as long as it was covered. I even made some and just used regular scotch tape. See this post for ways to preserve dried leaves.
There is a picture tutorial below or check out our video here. If you can't find leaves where you are this Fall, check out these DIY tissue paper flowers!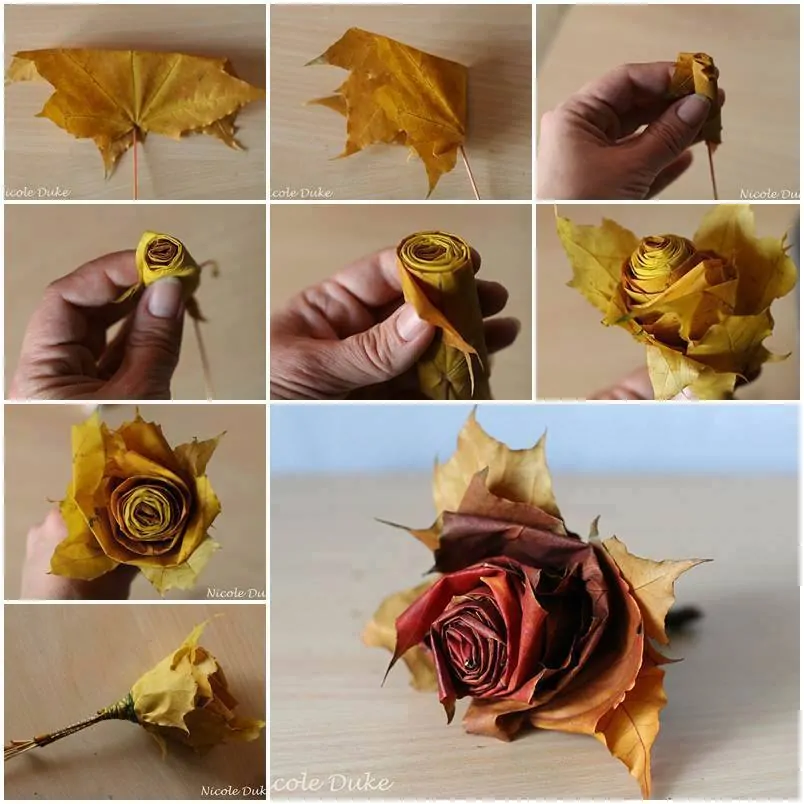 DIY Fall Leaf Roses Supplies
Several leaves for each flower (10-15 various sizes and colors)
Short Twigs
Floral Tape
Scissors
Directions for DIY Fall Leaf Roses
Begin with a smaller leaf. Placing the colorful side down, fold the points in. Begin to roll the leaf from one side.
Take a second leaf and fold the center point down. Place the first rolled leaf in the center, fold down the side points on the second leaf and wrap both sides around the first.
Continue to add leaves, rotating the flower as you go to get an even size. Use larger leaves on the outside.
Once you have the desired size, wrap the stems tightly with florist tape.
Place a twig on the bottom and wrap with the florist tape.
Tip: Keep the petals tucked in so that it doesn't unravel.
Good luck! We'd love to see how you do. Post your pictures on our Facebook page or in the comments below!
Foliage season is such a short season, I hope you can make many beautiful fall leaf rose bouquets! They'd be a lovely inexpensive gift for friends and family. Some people have used them as centerpieces for fall weddings and they are beautiful!
If you are looking for another flower project that would last long into the winter, check out these beautiful and easy DIY tissue paper flower decorations.
Please, share your completed rose with us! Sisters Know Best Facebook.