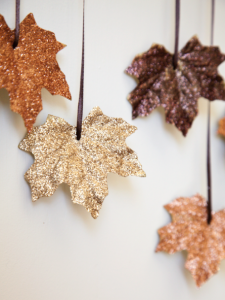 This Falling Leaves Glitter Garland helps me hang on to the beautiful leaves of autumn! A couple weeks ago we posted about Nicole Duke's Easy and Free DIY Fall Leaf Roses. This weekend I found another EASY and inexpensive DIY project for those leaves all over the ground that can accent your home and make a great fall or Thanksgiving decoration. I picture them shimmering around a room during a late evening party.
Being a perfect project for any age, I encourage you to grab the kids and make a day of garland making.  And who doesn't love raking up some leaves, throwing them up in the air, and jumping in huge piles of them?  Here's another way to stretch out your fall fun or make a souvenir of a perfect fall afternoon!
Extremely easy, cheap to make, and a way to preserve the leaves…
Here's what I did:
Glitter Garland Supplies:
Leaves (artificial or real) If you decide to use artificial, we found a deal here.
Glue
Small paintbrush
Glitter (Your project just got super easy if you use this glitter in a spray can!!)
Ribbon
Glitter Garland Directions:
Paint leaves with glue or use your spray can of glitter.
Sprinkle glitter over the leaf.
Let completely dry.
Use a hole punch to make a hole in the leaf.
String ribbon through hole.
Take a long piece of ribbon and tie ribbons with leaves to ends of the longer piece to create garland
OR tie individual strings of leaves (without the garland piece of ribbon) anywhere in the house.
This was a lot of fun to make and they will last for months! Use a variety of glitter colors, even the non traditional colors to make it extra jazzy.
A word of caution – as with any glitter project, consider placing a plastic tablecloth under your project.  It'll make for easy cleanup.  This also is a great opportunity to have your little helpers learn the joy of vacuuming!
Good luck!
Show us your DIY Garland Leaves on Facebook!