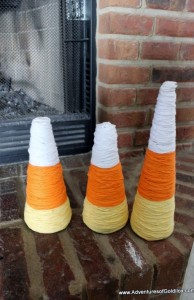 Is it really only 2 weeks until Halloween? Wow! Time flies by when you are crafting! The fall leaf rose was such a success a lot of our projects took a back burner as we answered our fans' comments on the blog and on Facebook and made the video tutorial for leaf roses. But now we are back to creating, crafting, and sharing! We stumbled on to these Candy Corn Decorations last night at Adventures of Goldilox and just had to try them! So easy, affordable supplies and they come out so darn cute, what's not to love?! Because you can put them inside or outside, they are perfect for brightening up any decor and bringing out the good feelings of this time of year. Just make sure if you put them outside you bring them in during rainy weather!

Here's what we did (Adventures of Goldilox did it slightly differently):
Candy Corn Decorations Supplies
Yarn – yellow, orange and white
Styrofoam cones (any craft store like Annie's or Create for Less will have them)
Glue (optional)
How To Create Candy Corn Decorations
Start with the yellow yarn at the bottom and wrap it around the cone. In the beginning, you can either glue the yarn to the cone or what I did is hold a 1/4 inch of yarn under the cone with my fingers until I went around a couple times and the yarn would hold firmly in place.
Next, I put the 1/4 inch I kept out to hold on to and put it in the path of the yarn, wrapped over it until it was hidden and moved on.
Depending on the size of your cones, wrap a third or so of the cone in yellow yarn. When you get your desired length, cut the yarn.
Start on the orange yarn next making sure to wrap the first couple times around the yellow end of yarn and orange end of yarn to secure it in place. Get your desired length and cut.
Repeat for the white yarn. When you finish with the white, take the end of the yarn and put it down through 4 or 5 layers of yarn, pull firmly and cut what remains off flush with the wrapped yarn.
Tip: You can put them inside or out but keep them dry. They are made with yarn so if you want to keep them after Halloween you will want to keep them dry.
There it is! Your deliciously healthy candy corn decoration for Halloween. You'll have your house ready in no time!
As always, we can't wait to see your results on our Facebook page!
What are you brewing up for Halloween?