Before you discount this Zucchini Pizza Crust recipe as too "green" or healthy, it's a fantastic way to enjoy pizza without the heavy feeling. AND a great way to use up some zucchini.  If you have a garden or know someone who does, then you know what happens when you grow zucchini or summer squash!
O.V.E.R.L.O.A.D!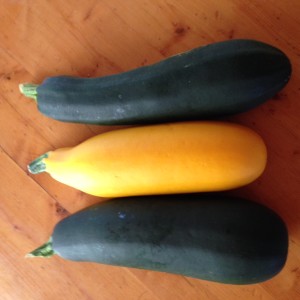 This recipe is a great way to get some extra veggies into the kiddos, go gluten-free for pizza, and, plus your neighbors will thank you for making this recipe and not loading up their front porch with squash!  It does happen, you know… What else can you do with it all? We have some ideas but start with this healthy idea that seems unhealthy first.
When I made this, I used my Cuisinart Food Processor and made a double batch. I had some of it for breakfast as a leftover and  it was delicious! Even my children thought it was delicious!
What's your favorite topping for pizza?
What's your favorite zucchini recipe?