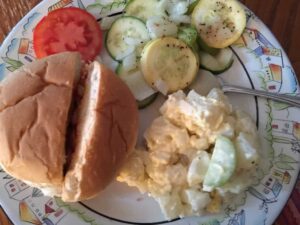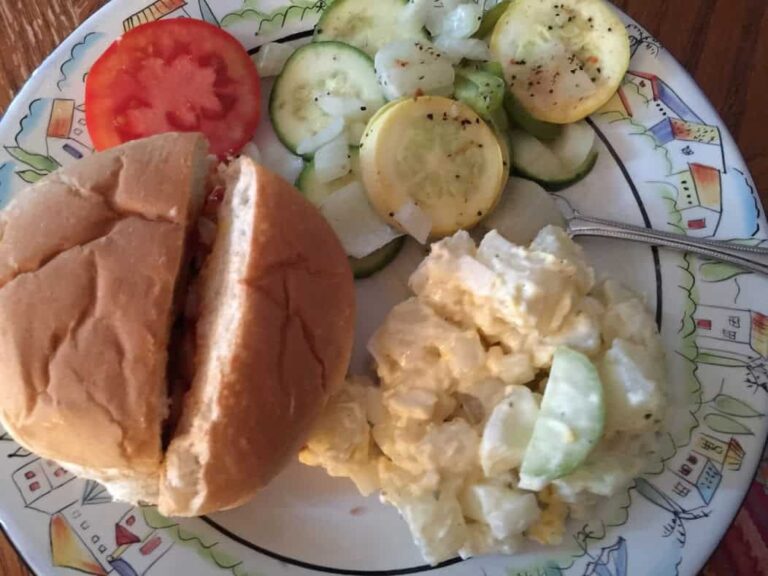 Hands down, this easy potato salad recipe is the best I've ever had… EVER. And I'm proud to say it was passed down from my mom. She's one amazing cook and I'm glad I paid attention for this recipe. My family loves how creamy and flavorful it is and I love that it's a healthy potato salad. I usually make a large amount for a party but below is a potato salad recipe for a few people that serves 4-5.
Potato Salad Ingredients:
Note: I usually don't measure out my ingredients but I wanted to see how healthy it is when I was making it. With the measurements below the entire salad was 845 calories and made 4 cups. One serving (1 cup) = 211 calories, 9.4 grams fat, 1.9 grams fiber, 5.9 grams protein according to my app ControlMyWeight ™ – Calorie Counter from CalorieKing.

1 large russet potato (15-16 ounces)
2 eggs
1 small onion (2 ounces)
1 small cucumber (4 ounces)
1/2 cup Hellman's Light Mayonnaise
Dash of salt
1 tsp of Vinegar
1 Tbsp of Hidden Valley Ranch dry powder
Potato Salad Recipe Directions:
Hard boil 2 eggs until done, about 12 minutes Tip: Add the teaspoon of vinegar to the water before it starts to boil to keep the eggs from turning green and to peel easily.
Meanwhile, peel the potato and cut into cubes. Add a dash of salt to water, add potatoes and boil until tender, about 5-7 minutes.
Next chop onion and cucumber. Set aside.
When you drain the potatoes, rinse with cold water to remove starch and stop cooking process.
Leave potatoes in a strainer and put the chopped onion on top. This will help soften (slightly) the onions and release some of the flavors.
Next, remove eggs from the burner and soak in cold water until ready to peel.
Place potatoes and onions in a bowl, add mayonnaise. Before mixing mayo in, dump the ranch powder on top of mayo. Mix together.
Peel eggs, chop and add to mixture.
Add cucumbers.
Mix and serve if you like it warm or chill in refrigerator until ready to serve.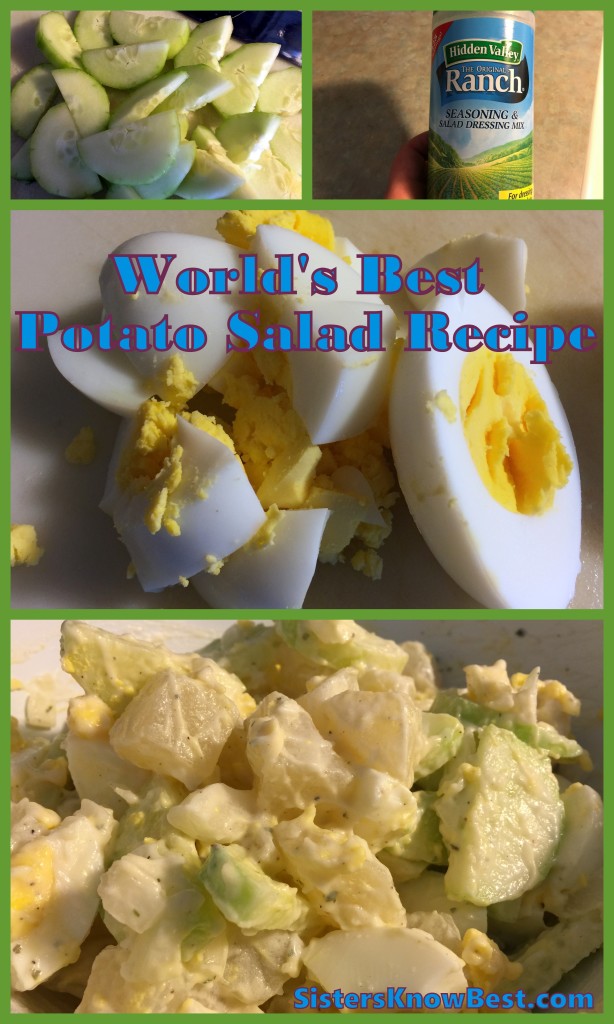 Do you have a favorite recipe that screams "Share Me! I'm too good to keep as a family secret!" Tell us about it below!