Mom's Tuna Casserole recipe is home to me. My mom is an amazing cook and out of ALL the mouth-watering recipes, this is the one I love the most and request for my birthday. Every time I go for a visit she makes this for us. She usually makes a double batch so she can send some home for me, freeze some for another time and have some leftovers for herself. Yup, I'm pretty spoiled.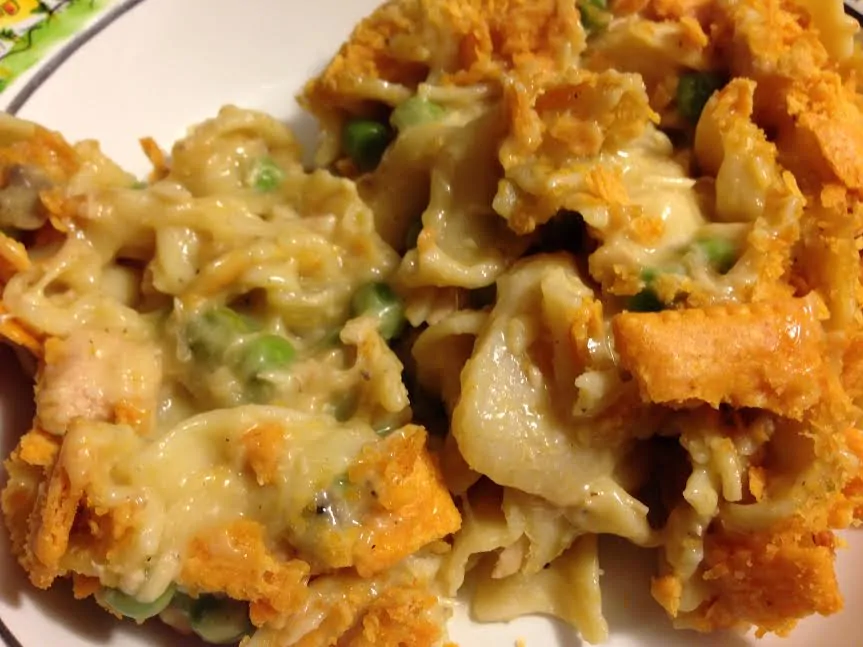 I wish I lived closer to mom. I don't get home as often as I'd like so sometimes I make a batch myself. Even though I follow the recipe to a tee, it's never quite the same. The secret ingredient, without a doubt, is mom's love.
Mom's Comfort Food Tuna Casserole Ingredients:
2 10.75 oz cans Campbell's cheddar cheese
10.75 oz can cream of celery soup
10.75 oz can cream of mushroom soup
1 cup mayonnaise – I use Hellman's Lite
1 8 oz can water chestnuts, sliced
3 5 oz cans of tuna
1 tsp black pepper
1 16 oz pkg egg noodles
2 cup peas
1 cup crushed crackers – I used Cheezits but anything works.
Tuna Casserole Recipe Directions:
Preheat oven to 350°
Boil water and cook egg noodles in a large pot as directed on the package.
Meanwhile, place all ingredients except for peas in a medium saucepan and stir together on low heat.
Remember:
– Loosely drain water chestnuts but not completely.
– Do not drain tuna.
– Fill one can halfway with water and rinse each can by dumping water from one can to the next. Add to mixture.
In the last minute of noodles boiling, add the 2 cups of peas.
Drain noodles and peas and rinse.
Put the noodles and peas back into the large pot, add the mixture from medium pot and mix well.
Place mixture in a casserole dish.  We love this one!
Cover the top with crushed crackers.
Bake for covered for 30 minutes.
Uncover, and bake 15 minutes more to brown crackers slightly.
Options:
Because this recipe makes a lot of food, at times I make a couple casseroles, a large casserole, or make one and freeze one. If you are freezing one, do not do last step of covering with crackers.  You can add the crackers before baking. We love freezer meals. Be sure to check out our freezer meal recipes post for more great ideas!
This meal doesn't really need a side dish but growing up we would have mom's pickled beets or amber pickles. I loved these combinations!
What dish makes you think of childhood?