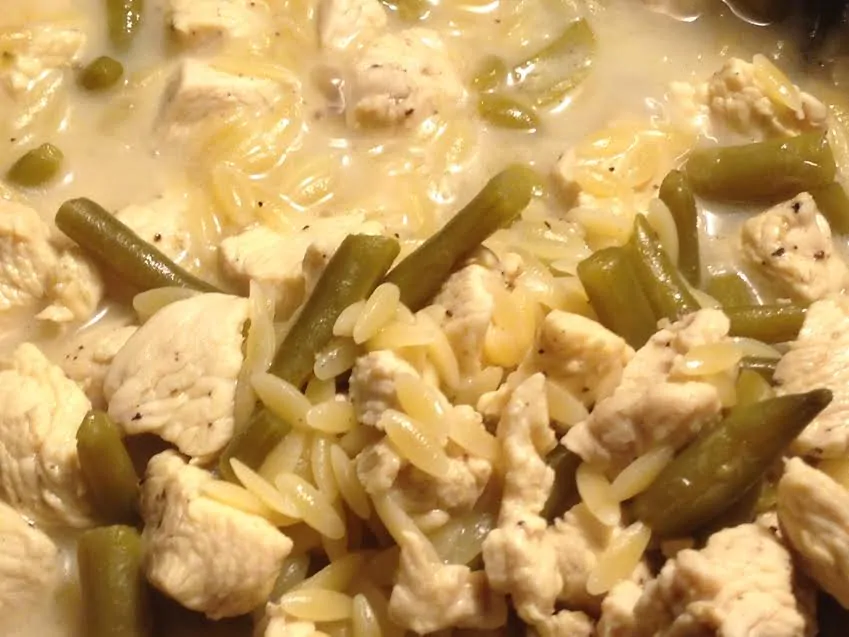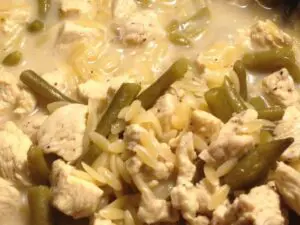 My family LOVES this Healthy Greek Lemon Chicken Orzo Soup recipe! My daughter loves the Lemon Chicken Orzo Soup from Panera Bread so when I saw this recipe, I had to try it! I changed the ingredients a little bit and we fell in love! Now it's a once a week recipe for us. And the best part is there is usually enough leftover for my husband and I to take to work the next day.
No complaints here since it's also on the healthy side of things!
Here's what we did:
Ingredients for Healthy Greek Lemon Chicken Orzo Soup Recipe:
4   
boneless, skinless

chicken

breast halves, cubed
1/2  teaspoon 
each salt and black pepper
16 oz (half of a large container)
chicken broth
1/3  cup 
lemon juice, I go a little over 1/3 because we like lemon
3  tablespoons 
low-fat sour cream
8  oz can 
green beans, drained
2 cups water
Directions for Lemon Chicken Orzo Soup:
Cut chicken into 1-inch cubes. Sprinkle with 1/4 teaspoon each of salt and pepper.
Pour broth and lemon juice into a Dutch oven. (I have the Lodge L8DOL3 Cast Iron Dutch Oven with Dual Handles.)
Bring to boil and add chicken.
Cover and reduce heat to medium.
Cook for 9 minutes or until chicken is cooked through.
Remove chicken from pot; set aside.
Increase heat to high and cook the sauce for 5 minutes to reduce.
Stir in remaining 1/4 teaspoon each salt and pepper.
Whisk in honey and sour cream.
Add 2 cups water to the pot and bring to a boil.
Add orzo and cook for 10 minutes or until pasta is tender and most of the liquid has been absorbed.
Add

green beans

to the pot for final 4 minutes of cook time.
Stir chicken back into the pot and serve.
Notes: The first time I made this, it seemed like a lot of timing but there is no real exact science to it. Just try to be close to the times suggested above. It's a fairly simple way to make a healthy lemon chicken orzo recipe for the family.
What are some of your favorite recipes made with orzo? We're always looking for new ideas. Leave a comment below!