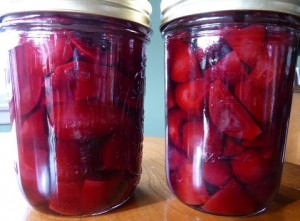 This pickled beets recipe, while not only fun to make, is also delicious! Yesterday I cleaned up the rest of my garden.  As soon as it's tilled, it will officially be put to bed.  Ahh.  Most days I'm more tired than my garden and wish for a "long winter's nap". Of course, with lots of produce canned and frozen, my winter will be filled with delicious home-grown meals.  Having pickled beets at the ready is one of my favorite delicacies!!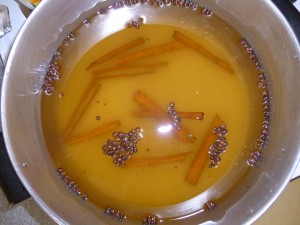 Mom and I spent less than an hour making 8 pints of beets.  We cooked our beets at our homes before canning day, but the skins were still on when we started the process.  While she prepared the beets, I prepared the liquid for canning.  Once the beets were in their jars, the pickling liquid had boiled and was ready to use.  At the same time as we were preparing jars, we put water in the canner so that was ready as well.
While making plans to store your harvest, consider doing it with someone else.  I've had many years of making salsa with my friend Darlene.  They are very special memories.  And what's the saying?  Many hands make light work.  If you are canning solo, put some wonderful music on and pat yourself on the back knowing you're doing something wholesome and worthy.
Pickled Beets Recipe
2 C Sugar
3.5 C White Vinegar
2 Sticks Cinnamon
1 Tbsp Allspice
1.5 tsp Salt
1.5 C Water
Cook and cut beets in slices or cubes.  Place in quart (or pint) mason jars.  Combine above ingredients.  Bring to a boil for 5 minutes.  Remove cinnamon sticks and pour liquid over prepared beets.  Process in boiling water bath for 20 minutes.  Makes 3 quarts.
For more from Sisters Know Best, check out our recipes category.
What is your favorite vegetable to can during harvest time?