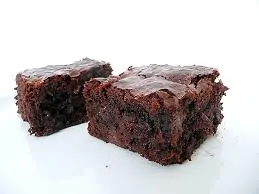 Healthy brownie recipe? Really? Is there such a thing? Maybe, but do they taste as good as the real thing? I'm here to say, YES, THEY DO!
Emily and I differ on recipes like this. Just be warned… she is a very natural, organic type of person and I am a "if it tastes good, I like it!" type of person. She would frown on the artificial sweetener portion of this recipe so I challenge her to give me her BEST all natural ingredient brownies that are still healthy in calories. Think she will? Hmmm…
Emily chiming in here:  I have accepted Chris's challenge.  You can compare this recipe with mine and let us know which recipe is your favorite.  I do strive to use all natural ingredients, and I do NOT like artificial sweeteners.  I guess my Sis and I will have to agree to disagree on this.  (I've read the science behind why artificial anything isn't good.  That's a topic for another blog post someday.)
While we wait, let's feast on these delicious 37 calorie brownies!  Do let us know your thoughts on these brownies.  How is the taste?  How is the consistency?  Are they lacking anything by using lower calorie ingredients?
Healthy Brownie Recipe Ingredients:
3/4 cups nonfat greek yogurt
1/4 cup skim milk
1/2 cup cocoa powder
2/3 cup old fashioned oats
1/2 cup sweetener (Sweet N Low, Stevia, etc)
1 egg
1/3 cup applesauce
1tsp baking powder
1 pinch salt
Healthy Brownie Recipe Directions:
Preheat the oven to 400°F.
Grease an 8×8 baking dish.  (This dish is made specifically for brownies!)
Combine ingredients with mixer on medium speed for 1 minute, until smooth.
Pour into prepared dish and bake for about 15 minutes.
If toothpick or knife come out clean from center, they are done.

DEVOUR!
What's your favorite dessert? Do you have a healthy dessert recipe that doesn't' taste healthy? We want to hear from you!