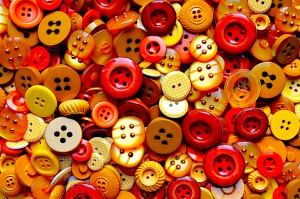 Flipping through a magazine, I came across this Lost Button Craft Frame project.  Our family has the market on loose random buttons! My grandmother had tins of buttons she had collected through the years and this was passed on to my mother. I'm sure Emily has a bunch too. (Emily chiming in here: I have Gram's buttons and some of Mom's now as well!)  I admit, in my new home, I've started a little box of buttons myself.
We save and save, afraid to throw them out because we know one day we will need one for a pair of pants, that jacket or shirt that popped its button… but realistically, we will never use all of our buttons… well, not until now.   Check out this super easy, super cool Lost Button Craft Frame!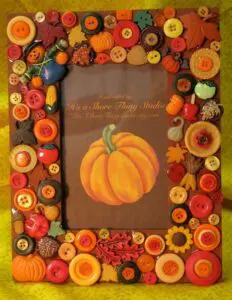 I found this cute little frame on Etsy tonight and fell in love! The colors selected really paint the picture of fall but you could do this for any time of year.  Click here for deals at Amazon on frames as well.
Lost Button Craft Frame Supplies:
Neutral colored frame
Variety of buttons
Hot glue  and glue gun
Lost Button Craft Frame Directions:
Either put hot glue on the frame or on the back of buttons and glue to frame. Push into the glue.  (As always, use caution with hot glue.  Please be mindful of children using glue guns unsupervised.  That glue is HOT!)
Pretty basic really BUT…
Because the glue is hot, the heat will be transmitted through the buttons. Also, even though the holes are tiny, the glue may seep through them.
No two frames will be the same so make sure to let us know about your Lost Button Craft Frame by commenting below.  We can't wait to see your frames and which color palette you decided on.  Please post on Facebook!