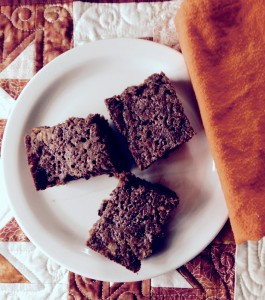 Pumpkin brownies – two of my favorite things!  How many people were shocked at the words healthy and brownies in the same title?
Challenged by my sister Chris to come up with a healthy brownie recipe a few weeks ago after she published her own healthy brownie recipe, I came up with this pumpkin brownies recipe.  Knowing me well, Chris nailed it when she said that I'm an organic, natural kinda person.   I like that she makes me think and urges me outside my comfy box, but — gee!  I've got stuff going on and little time to come up with a wa-zoo recipe!  Ah, the pressure….
Being the season for pumpkins, I knew my first healthy ingredient!  In addition, adding veggies to dessert makes it healthy automatically in my opinion.  Right?  Right?
Anyway, following is my Healthy Pumpkin Brownies Recipe in response to her challenge.