I'm used to the canned version of green bean salad. I've never made my own from scratch… until now. It's so WORTH it! I had this salad with a recipe from Blue Apron. The entire thing was pretty good but this part was my favorite and I had to share! Blue Apron is awesome! I know I talk about it all the time. If you want to try you can click here to get your first 3 meals for free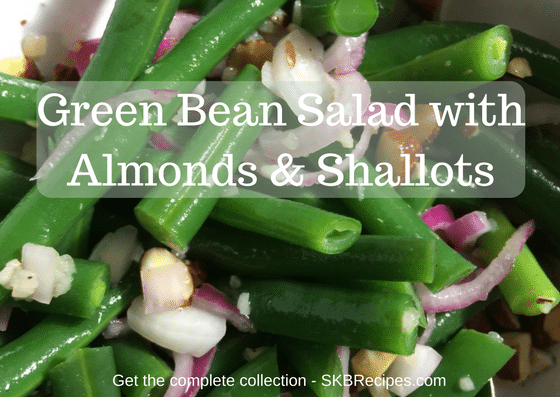 Green bean salad from scratch is super easy to make. There are just four ingredients and salt and pepper to taste. I love recipes that are simple and fast. As much as I enjoy making healthy meals for my family, we're all busy and it's not always possible to spend an afternoon in the kitchen preparing a wonderful dinner, so fast side dishes like this green bean salad make it easy to provide my family with healthy food and keep up with the rest of my busy schedule.
I love the textures and flavors in this recipe, but if you can't find shallots try onion or scallions instead. Chives would bring a similar flavor, but not the texture. Unlike apple cider vinegar or regular white vinegar which can be harsh, white wine vinegar is pungent, but it doesn't overpower your taste buds so you still get all the fabulous flavors of the green beans, shallots, and almonds.
As a side, this dish pairs well with a grilled meat fish, or poultry. It also stores well and could be packed in a container for lunch with a sandwich. In larger portions, it would work well as a lunch on its own, particularly if you add kidney beans or chickpeas for some additional protein.
Don't forget, we love to hear from our readers! If you tried this green bean salad or have another tasty green bean dish, please share your thoughts with us in the comments below!