With the cool, crisp air of fall and the changing leaves, it's the perfect time to make seasonal crafts. Fall in New England and many other parts of the country is a magical time. We like to capture some of that magic with DIY projects and crafts. These fall craft ideas are some of our favorites.
Fall Craft Ideas Roundup:
Fall Leaf Roses
This is one of our favorite projects that is very popular with many of our readers. The fall leaf roses are made from changing leaves and can be turned into bouquets, centerpieces and more.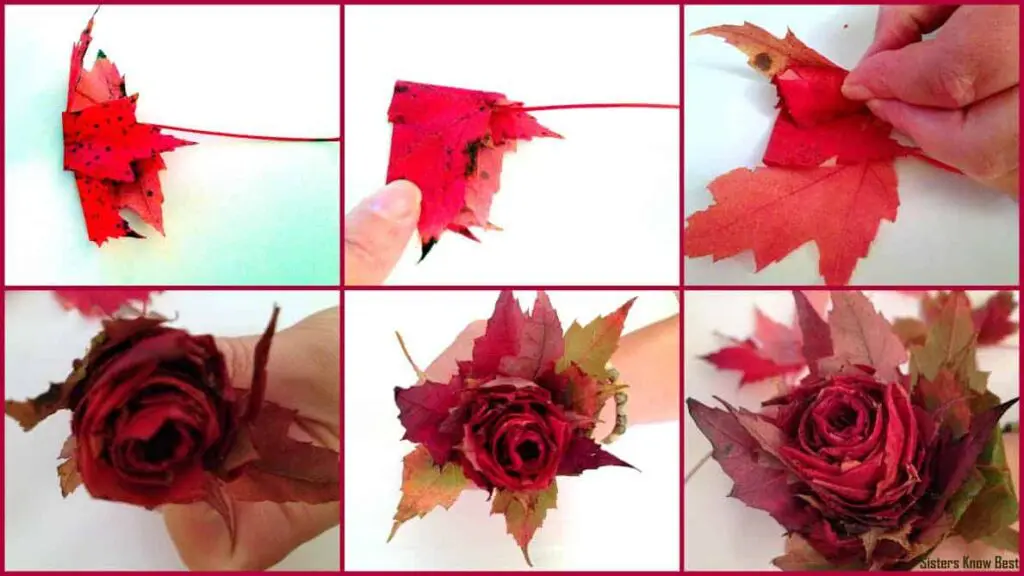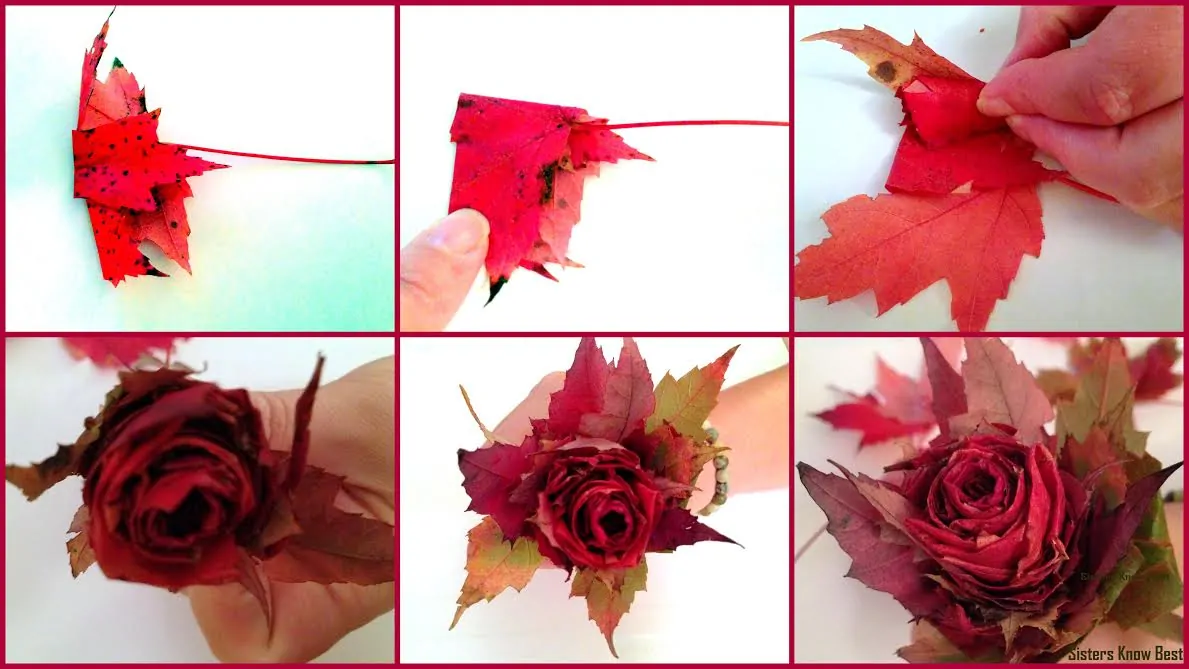 Fall Leaf Bowl
We love this fall craft idea because it brings to mind a great way to save leaves from an autumn walk or special hike.  Mementos are always a good thing!!  With just a few supplies and your crafty talent, you can make this fall leaf bowl.  It's both decorative and functional.  Place other seasonal items, like pinecones, in the bowl and display it on side tables, coffee tables, or shelving units to bring some of fall indoors.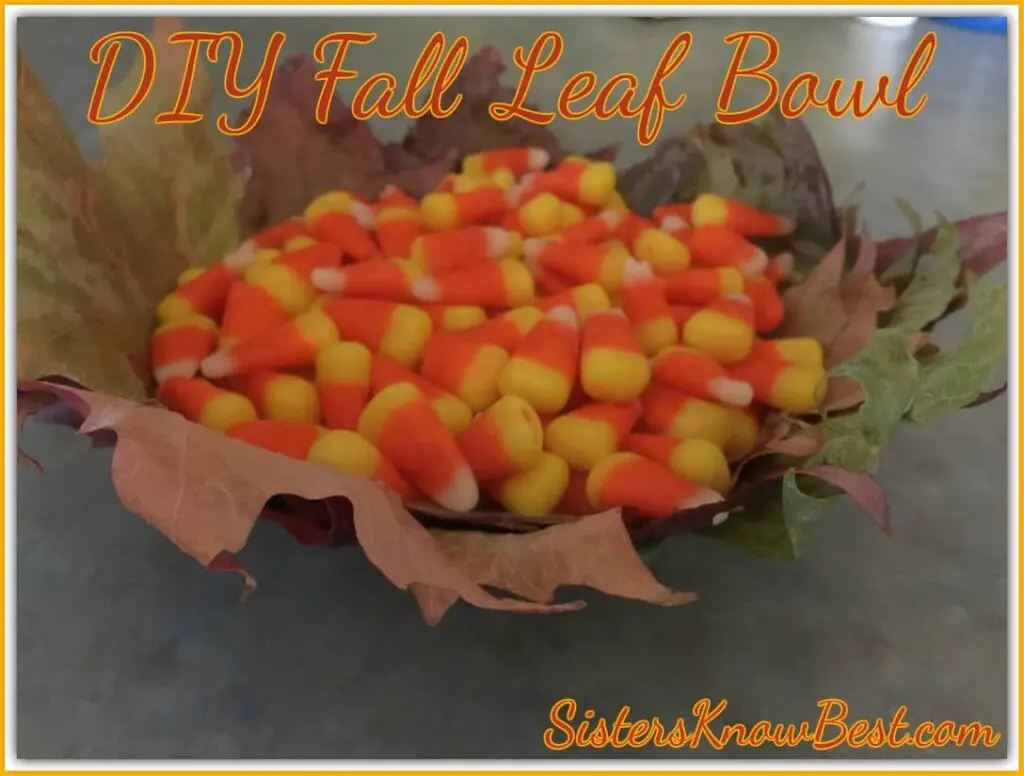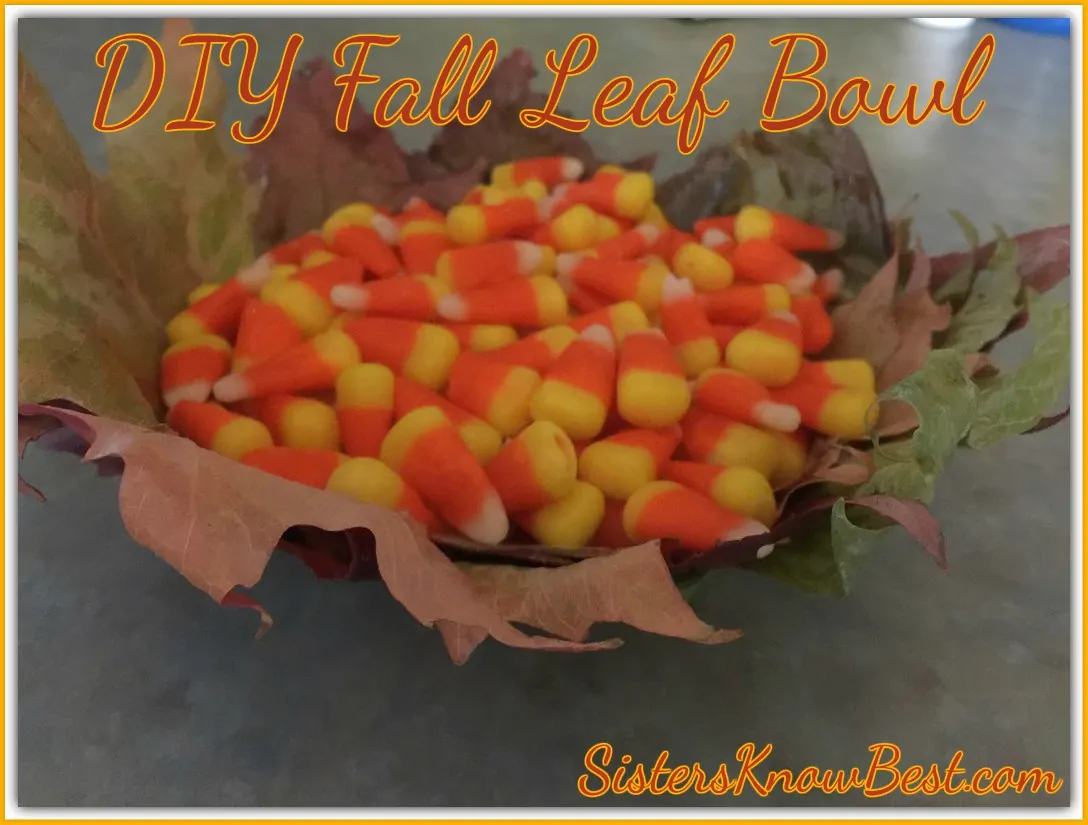 Painted Acorns
We couldn't omit these festive acorns from our fall craft idea roundup. They're easy to make and great to display in the fall leaf bowl! We love projects that go hand in hand! During your fall nature walks or hikes, collect leaves and acorns so you'll have nature's supplies for both projects. The painted acorns would also look great in a glass dish or jar. Use them at a local harvest fair to add flair to your table or for a "guess how many" game instead of jellybeans.
Pinecone Bird Feeders
As the ground freezes, birds have a tougher time finding the food they need. Help them out with these easy DIY pinecone bird feeders from FreebieFindingMom. Hang them where you can see them from your windows and enjoy the show as the birds visit your yard.  They will say "thank you" for helping them get through the scarcer months.  Fall craft ideas that help the animals get a big plus in our book!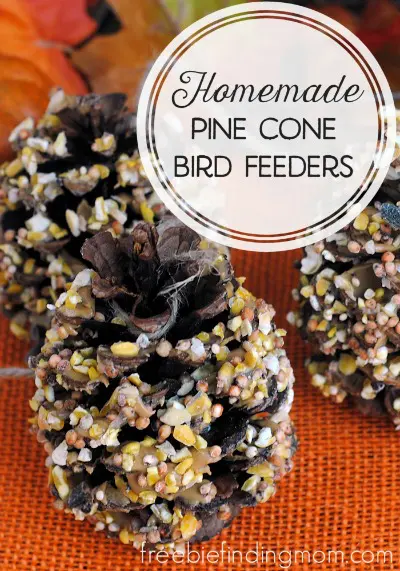 Tree Limb Coasters
Often times, fall also means cleaning up the yard and trimming trees. Instead of tossing those tree branches in the waste pile, slice them and decorate them to make fall themed coasters. When we create by recycling or repurposing, we're ecstatic.  No brainer this is why the tree limb coasters made the fall craft ideas roundup.  Oh! And this is a great project for people who love stamping! When you're done, they'll help save your wooden surfaces from drink condensation and look great too. Win, win, win!!
Fall Leaf Mason Jar Candle Holders
Mason jars are always great candle holders. And mason jars absolutely ARE fall! Think of canning. Right? Anyway.  with this fall leaf mason jar craft, you'll add a touch of fall to your candlelight ambiance. As the light glows and flickers through the leaves, the room feels warmer and cozier.  Perfect for enjoying that autumn cup of tea and good book.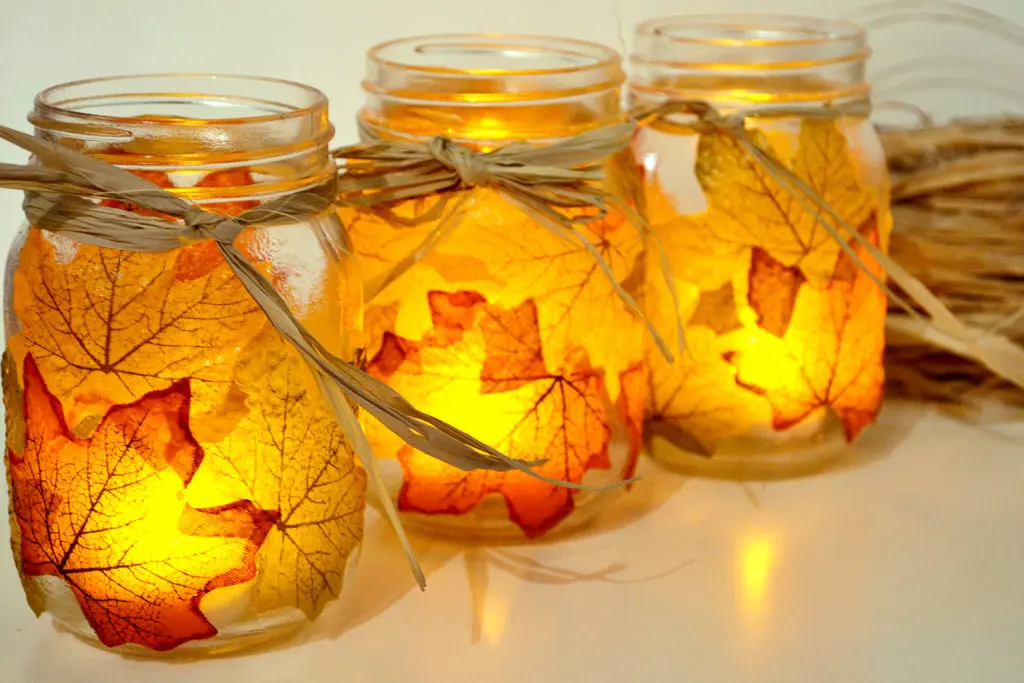 DIY Pumpkin Spice Candles
Nothing says fall like the smell of pumpkin.  That's the reason this project is in our fall craft ideas roundup. These pumpkin spice candles make your house smell like pumpkin pie baking in the oven! Use Thanksgiving Day or any time to bring a warm, cozy, and welcoming feel to your home. Just be careful you don't start craving pie!
Pumpkin Vase
Don't worry.  You won't need to hollow out the gourd to make this fabulous pumpkin vase. Thanks A Pumpkin and a Princess for the directions!  The entire project is made from faux materials. Not only do you create a unique fall centerpiece, but it will also last forever.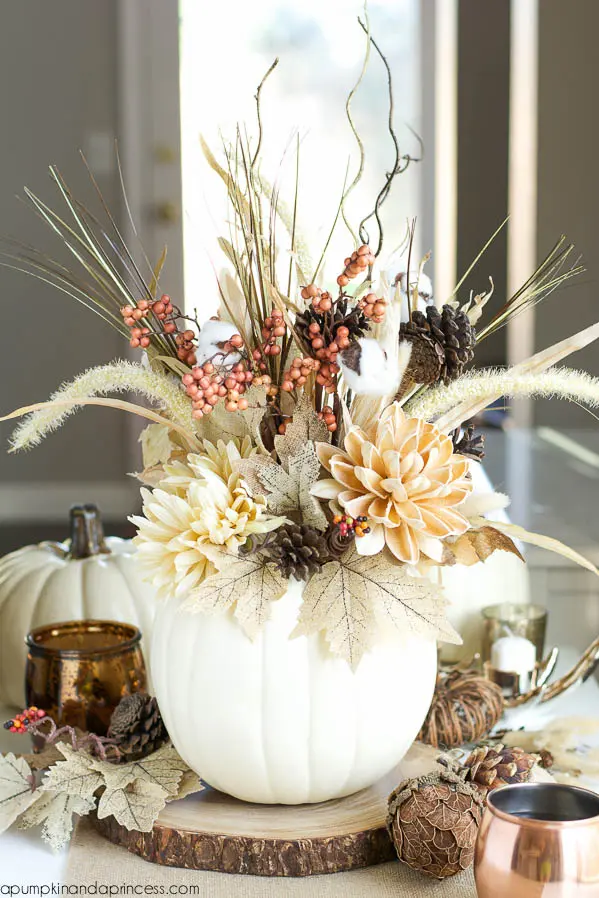 Fall Leaf Garland
Bring those lovely fall colors indoors with this fall leaf garland. Made with faux leaves, you can hang it on your mantle to add some color to your den or family room without fear of leaves catching fire. If you want to use real leaves, they'll work also in this project.  Of course, be vigilant near flames!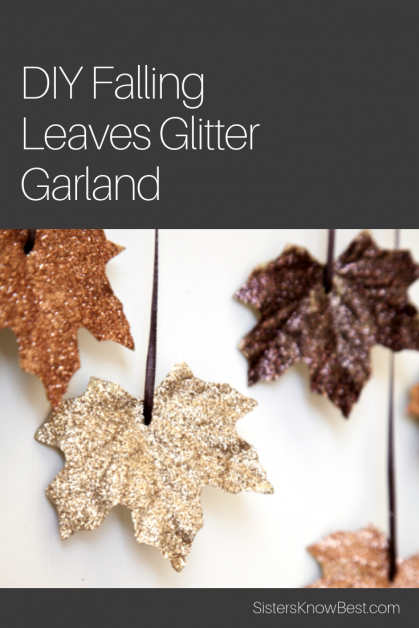 Wood Slice Owl
This is simply too cute for words! The wood slice owl comes to life with jar and bottle lids for eyes.  Old silverware creates other features. Grab a twig and some faux berries to make a home for your own completely adorable wood slice owl.  Credit goes to Pam at House of Hawthornes.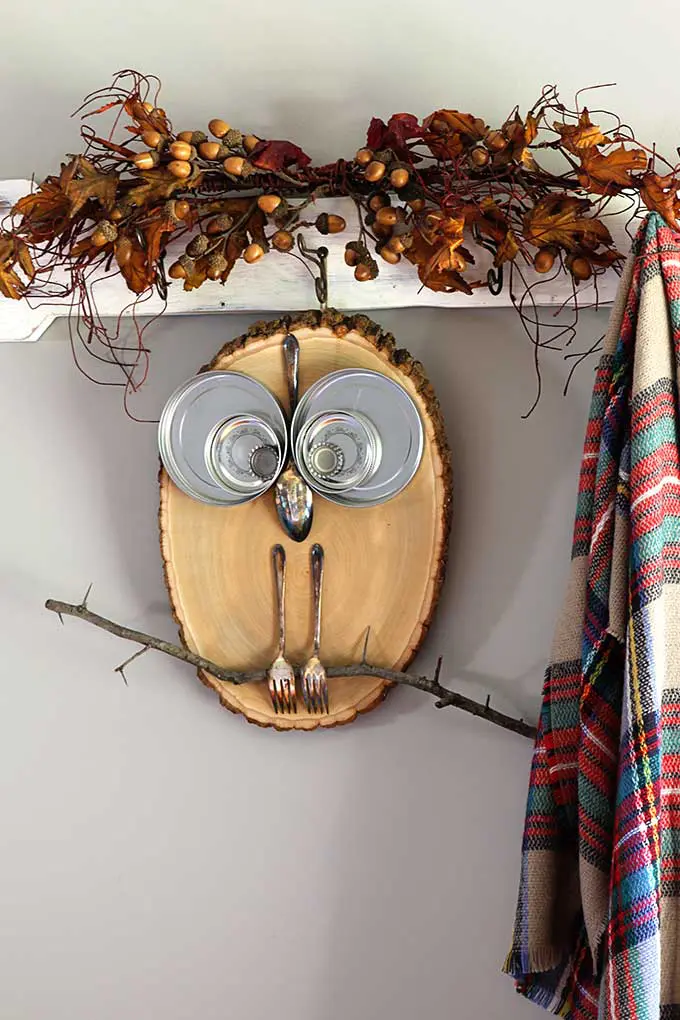 We love fall and the magic of the leaves changing. If you love the outdoors during autumn as much as we do, you'll love these fall craft ideas. Let us know which ones you made and how they look in your home!