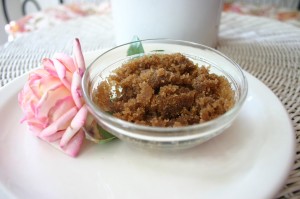 I have dry skin and with the cold weather coming, it's worse. While I love and strongly recommend Aloe Vera for hand eczema, sometimes a girl needs a little more pampering. Shhh, don't tell, but I am making this for Bill's mom for Christmas too. I'm going to add it to her basket of goodies! This simple recipe for body scrub should help her dry skin and make a great present! Yay! I love easy DIY Christmas ideas!
Here's what to do:
Ingredients:
1 cup Dark or Light Brown Sugar
1 cup Pure Cane Sugar
¾ cup light olive oil
2 tsp. cinnamon, powdered
2 tsp. ginger, powdered
2 tsp. nutmeg, powdered
1 16 oz. glass container with lid
Cinnamon sticks, optional
Directions:
In a medium-sized bowl, combine all ingredients until thoroughly blended. Be sure to break up any lumps from the brown sugar or from the spices. Spoon into the glass container and secure with lid. Scoop a teaspoon or two of the scrub on your hands and gently massage in circular motions onto your skin. Leave on for 3 to 4 minutes before thoroughly rinsing. The scrub will tighten and leave your skin feel refreshed!
There are several varieties of scrubs and this one is perfect for the holiday season. Sugar and spice and everything nice after all…
What is your favorite DIY Christmas gift?
Check  out more of our easy DIY Christmas gifts, recipes and crafts.