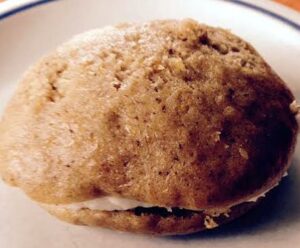 Whoopie pies are fun to make!  They're even more fun to eat!  This recipe won't disappoint!
No matter how you carve, slice, steam, roast, drink it, I LOVE PUMPKIN!  (Carve as in pumpkins, slice as in pie, steam as in cook, roast as in seeds, drink as in latte….)
This year I carved one pumpkin and cooked another.  I wish I had taken a picture of my carved pumpkin before I fed it to the buffalo.  Next year….  My other pumpkin I cooked in a way similar to how I steam squash.  Scoop out the seeds and goo in the middle, peel, chunk it up, and steam it until soft. I had SO MUCH pumpkin! I used some of it for my healthy organic pumpkin brownies and some of it I used for these scrumptious whoopie pies.
Here's what I did: