I know you have seen the post about salads in a mason jar a thousand times already but this one is a little different. I tried the #Salads In A Jar the way others said to and no matter how many days they sat in the jars (1-6), they were still soggy. Even on day 1. I figured I better share how the salads in a jar worked best for me… let me know if you have other tips to make them even better.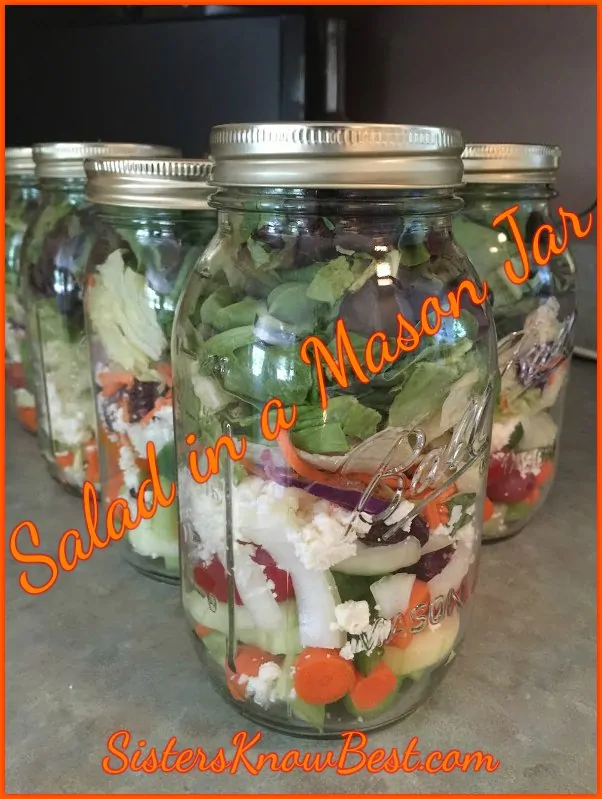 Salad in a jar is one of the easiest things I've ever made but it's my new addiction and it will be yours too. Why?
3 reasons:
Saves so much TIME in the morning before work or before dinner
Saves so much MONEY not wasting vegetables
Guaranteed to get more vegetables in
Here's how I do it:
Peel and rinse all vegetables.
Pat them DRY with paper towel to get all moisture out.
Slice onions, green peppers, carrots, celery. Pat the slices dry again and place in bottom of mason jars.
Slice cucumbers and place in jar.
Place 1/4 cup of feta cheese in each mason jar.
Place cherry tomatoes in mason jar.
Add 1/3-1/4 cup of craisins in each mason jar.
Finally fill the remainder of the mason jar with lettuce.
Tips:
Make sure lettuce is patted dry as much as possible.
Fill mason jars as full as possible with lettuce so there is very little air at the top.
Do NOT put dressing in container. I open my jar before I leave for work and put dressing in or take it with me.
During summer months this is a great way to use up and preserve your garden harvest vegetables like carrots, cucumbers, green peppers and tomatoes. My sister should do this with all her vegetables!
My garden didn't do that great so I go to Sam's Club and purchase in bulk. One container of Spring Mix from there will make 6 quart size mason jars worth of salads. It's perfect for the week! Before trying this, I would throw out half the bag of salad.
You can put other items in your salad but I like starting with this base and going from there. For some great salad recipes, check out Nosh and Nourish.
This is one of the best food hacks out there! For others, see our Sisters Know Best Food Hacks.