No one likes being stuck inside on a rainy day, especially your kids. It doesn't take long before their boundless energy has them bouncing off the walls, making you crazy and praying for the sun to come out. Instead of clinging to your sanity like it's a life preserver, check out these great rainy day activities for kids. You'll keep them entertained and give them acceptable ways to burn off their energy – without making you nuts. 
Dance Party
 Rainy Day Activity
Your kids already want to move and expend huge amounts of energy. Turn on their favorite tunes and have a dance party with them. You'll all have fun showing off your best moves and your kids will really appreciate the mom-approved way to being active in the house.  And burning a few calories may be good for you as well!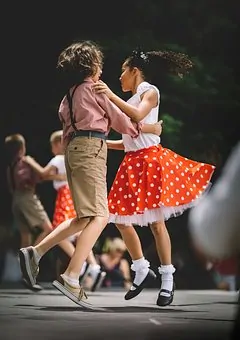 Glow Stick Balloons
 Rainy Day Activity
Add a little disco ambiance to your dance party with glow stick balloons. Your kids will have loads of fun making them and even more fun playing with them and tossing them around while dancing. And unlike the forbidden activity of playing ball in the house, this rainy day activity won't wreak havoc on your breakable décor items. 
Simon Says or Follow the Leader
 Rainy Day Activity
Bored of dancing? That's okay.  The tried and true kid favorites of Simon Says and Follow the Leader will keep everyone occupied for a while. Challenge them with the wackiest moves you can come up with and have them copy you for follow the leader or offer a prize to the kids who can stump you at Simon Says. 
DIY Puppets
 for a Rainy Day Activity
This is a great way for children to express their creativity. Use paper bags and markers for a super quick and easy way to make puppets in any character your kids can think up. Or spend a bit more time on them and repurpose those socks that came out of the laundry without their mate. Markers work on socks too! You could also use glue-on googly eyes, felt, and construction paper to create crazy puppets.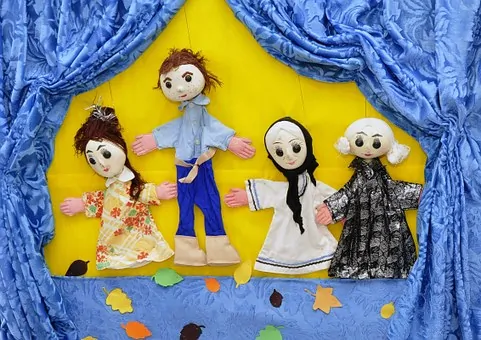 Puppet Show Rainy Day Activity
Now that you've got the puppets, it's time to put on a show! Have your kids write a script and create a set using sheets and blankets. You could also grab a favorite storybook and act it out if you're short on an original storyline.  Then have everyone gather 'round with some popcorn while they put on their original puppet show.  To make this even more simple, check out the Fishstick Kids Puppet Scripts book.
Get Your Music Groove On
 for a Rainy Day Activity
Whether they use the music as part of their puppet show or an enhancement to the dance party, or just a separate activity, your kids will love the chance to raid your pots, pans, and kitchen utensils to make some music. You can even make it a family affair and assign different instruments to everyone in the family. 
Cardboard Box Train
 Rainy Day Activity
Kids and cats love cardboard boxes.  If you've got some laying around, pull them out and let your kids imagine different worlds and uses for them. One of our favorites is the cardboard box train. It's a great launching point to help your kids imagine they're on a trip to somewhere fun and exotic!  And stuffed animals make spectacular passengers!
Make a Fort
 Rainy Day Activity
Who doesn't love this?  Chris and Emily did this all the time growing up! Grab your extra sheets and blankets and a bunch of cushions and pillows. Then pull chairs together and drape the blankets and sheets over them to make an indoor fort. Put the cushions inside for comfort and you've got the perfect place to cuddle with your kids. It's great for reading a book with them, taking a nap, or just some great bonding time.  Emily's children made a fort and invited a friend to spend the night.  Flashlights are a must and make for even more fun as the sun goes down.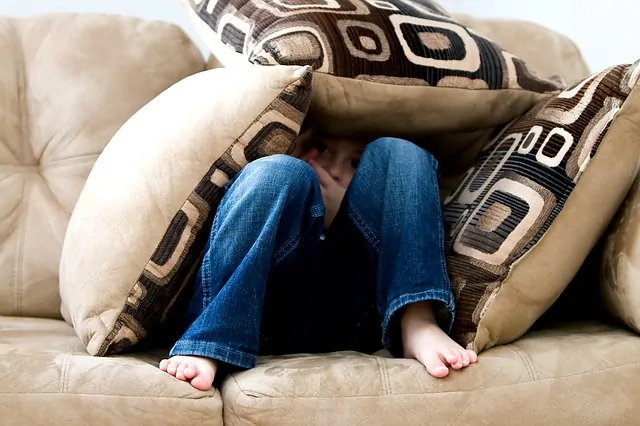 Being stuck inside on a rainy day doesn't have to be boring or frustrating. This is just a few of our favorite indoor rainy day activities for kids. Please also check out our Winter Craft Ideas for Kids or our Back to School Crafts on the blog.  What other things do you do with your kids when it's raining? Let us know below! We'll feature it on the blog.