Have you ever read Stone Soup by Marcia Brown (1947)?  It has been a favorite in our home.  Recently we invited some friends to join us for an Almost Full Moon Snowshoe Outing and Stone Soup Dinner.  Say that three times fast!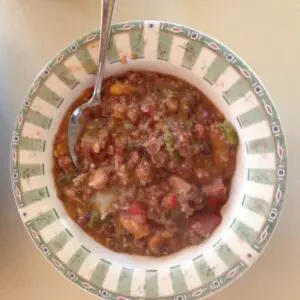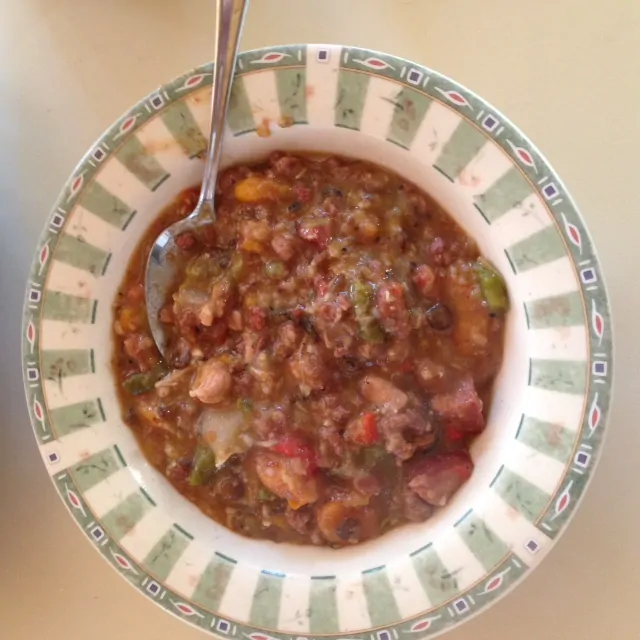 Make sure you read the book, but a quick summary is a village is struggling to make it through the winter with meager food staples.  To help each other survive, everyone gathers and puts what they can into a huge soup pot.  The village is saved and everyone is fed.  There are other lessons as well in this wonderful story.
Winters in Maine can be long.  I like to find ways to liven it up which helps me and others get through.  I've been doing quite a bit of snowshoeing, and we have made many trails around our property.  Based on Stone Soup, inviting neighbors to snowshoe in the moonlight and enjoy a meal together seemed like a great idea!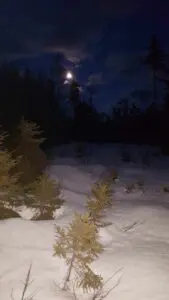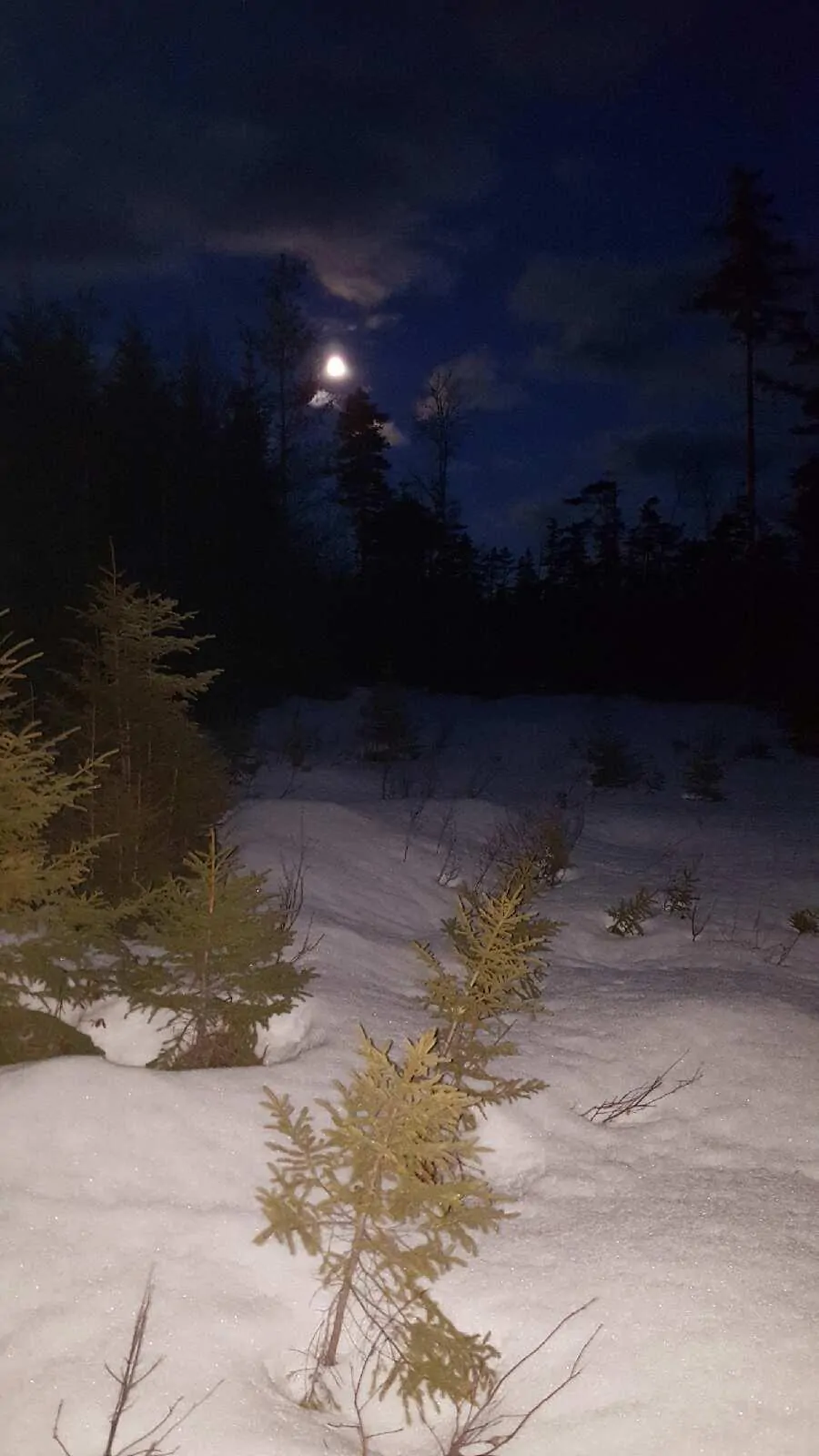 Our gathering time was 5 p.m.  At 4:15 p.m. the sky was cloudy and our fires were struggling to start.  It was looking to be a disappointing event.  However, persistence paid off.  Our fires flamed and as our group of 20 or so snowshoed into a clearing near our home, the clouds parted and the moon showed herself!  Before anyone thinks we are irresponsible with fire, two of our group stayed to tend the fires and stir the soup pot.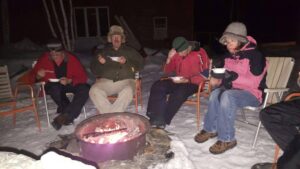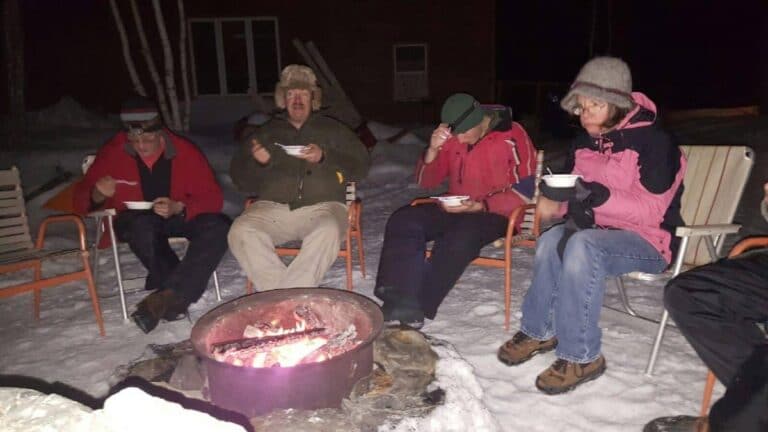 Upon returning, our soup was piping hot.  It was amazingly delicious!  The best I've ever had!  For those who have never had it, I highly recommend gathering a group and seeing what you can stir up.  Here's the "recipe" of how our stone soup was made: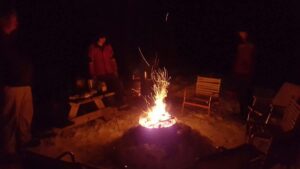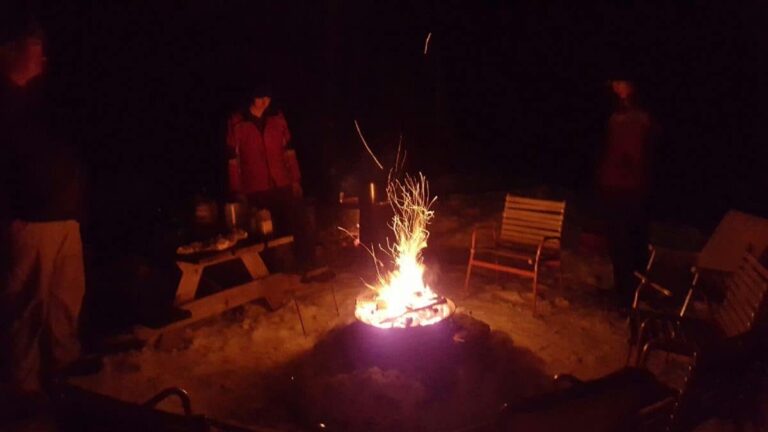 My family started with:
homemade deer sausage
green beans
beef bouillion
cabbage
brown rice, mung beans, and lentils (I recommend soaking these before as they will absorb lots of liquid and may make your soup burn or stick unnecessarily)
Our guests brought the following:
onions
peppers (green, yellow, orange)
celery
chicken
mushrooms
linquica
pinto beans
carrots
chicken sausage
This was an amazing dish!  Words of caution:  my family's ingredients were fully cooked.  Some of our guests brought uncooked meats and veggies.  Make sure you allow time to fully cook everything!
Please share your photos and ingredients list!!