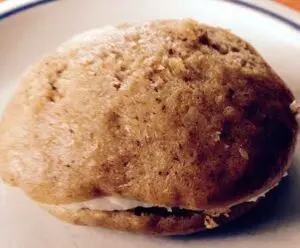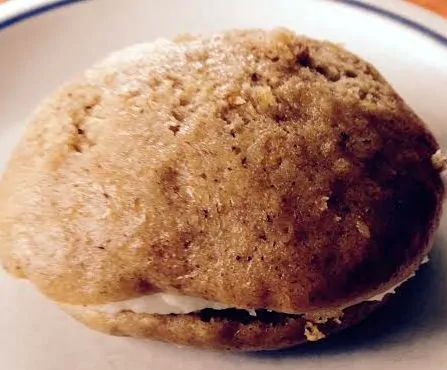 Whoopie pies are fun to make!  They're even more fun to eat!  This recipe won't disappoint!
No matter how you carve, slice, steam, roast, drink it, I LOVE PUMPKIN!  (Carve as in pumpkins, slice as in pie, steam as in cook, roast as in seeds, drink as in latte….)
This year I carved one pumpkin and cooked another.  I wish I had taken a picture of my carved pumpkin before I fed it to the buffalo.  Next year….  My other pumpkin I cooked in a way similar to how I steam squash.  Scoop out the seeds and goo in the middle, peel, chunk it up, and steam it until soft. I had SO MUCH pumpkin! I used some of it for my healthy organic pumpkin brownies and some of it I used for these scrumptious whoopie pies.
Here's what I did:
Whoopie Pie Ingredients (see below for filling):
1.5 C brown sugar
3/4 C canola oil
2 eggs
1.5 C pumpkin (rough measure)
3 C flour
1 tsp baking powder
1 tsp baking soda
1/2 tsp salt
3/4 tsp cinnamon
1/2 tsp ground cloves
3/4 tsp ginger
1/2 tsp nutmeg
Whoopie Pie Directions:
Heat oven to 350°.
After combining wet ingredients in large mixing bowl, blend until smooth.
Place dry ingredients in a sifter and sift into wet ingredients.
Mix until smooth.
Drop approximately 2 Tbsp batter onto oiled cookie sheets and bake until puffed and set, about 12-14 minutes.
Cool on wire racks.
Try to have an even number of cookies!!
Finally, make your whoopie pies using the following filling or use your favorite.
Cream Cheese Filling Ingredients:
1 8 oz package of cream cheese softened
1/2 stick of butter at room temperature
1 tsp vanilla extract
4.5 C confectioner's sugar
Now you will combine all ingredients and blend until smooth.
Enjoy your treat with a cup of cocoa, tea or a pumpkin latte!!  Mmmm mmm.
What is your favorite whoopie pie variety?