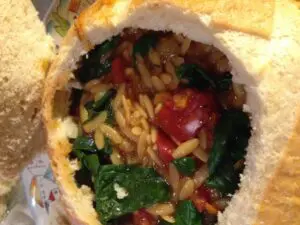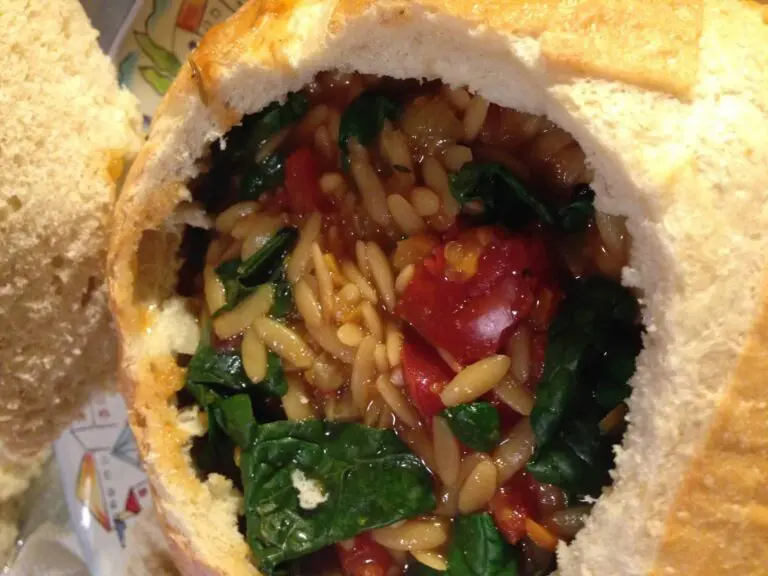 Vegetarian Orzo and Spinach Soup Recipe – look no further!  If you are looking for a healthy vegetarian soup for a main course, look no more! I made this for my boyfriend's vegetarian sister and we all loved it! I actually doubled the batch! To be completely honest, my boyfriend added a little spice to his (meat) but his sister enjoyed it as is and so did I. I'm sure you will too!
Ingredients:
Small white onion, peeled and diced
1 cup diced carrots
1 cup diced celery
3 cloves garlic, peeled and minced
6 cups chicken or vegetable stock
1 (14-ounce) can fire-roasted diced tomatoes
1 1/2 cups orzo pasta
1/2 teaspoon dried thyme
1/4 teaspoon dried oregano
1/4 teaspoon dried rosemary
4 cups loosely-packed spinach
salt and black pepper
Directions:
Spray bottom of large pot.
Dice onions and place in a large pot on medium heat.
Dice carrots and celery and add to pot.
Mince garlic and add to pot.
Add 6 cups of vegetable stock.
Combine fire roasted diced tomatoes and orzo.
Add thyme, oregano and rosemary.
Bring to a boil and then simmer for 10 minutes, until orzo is cooked.
Add spinach and cook for 2 minutes.
Notes:
My vegetable stock was unsalted so I added garlic salt and a pepper medley to mine to bring out the flavors.
My boyfriend wanted meat so he added precooked Jimmy Dean turkey sausage.
This meal was quick and enjoyable for everyone. One tip I have is to invest in a food chopper! I use mine all the time for chopping, dicing, and mincing and it saves SO much time!
For more great flavors, take a look at our other recipes.
.