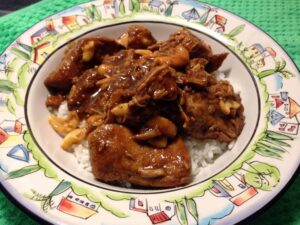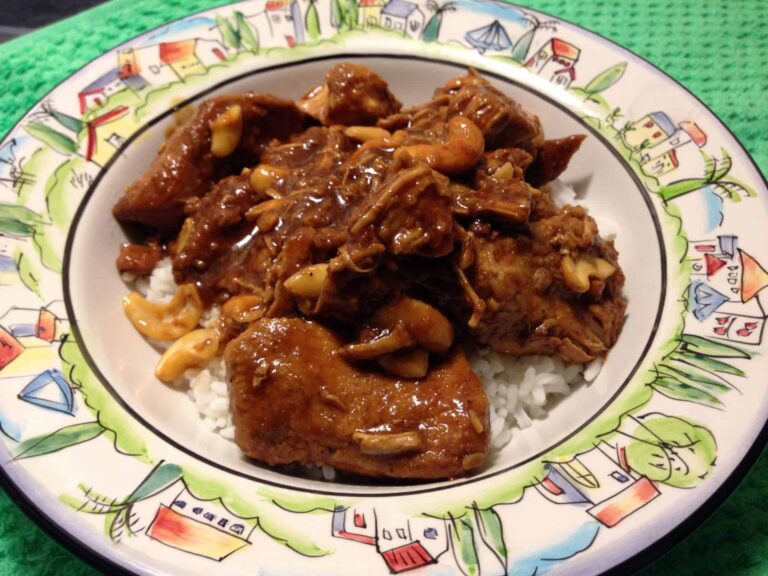 This does not taste healthy yet it is a low fat and calorie dish. We love how the crushed red pepper and brown sugar give it a sweet and spicy flavor and the cashews offer the Thai nutty taste without the fat of peanuts. It's quick to prep and is perfect for weekday or weekend!
Here's what we did:
Ingredients:
3 lbs boneless, skinless chicken breasts cut in to strips
1/4 cup all purpose flour
1/2 tsp black pepper
2 Tbsp canola oil
1/2 cup soy sauce
4 Tbsp rice wine vinegar
4 Tbsp ketchup
2 Tbsp brown sugar
2 garlic clove, minced
1/2 tsp  ginger
1/2 tsp crushed red pepper
3/4 cup cashews
Directions:
Combine flour and pepper in large Ziploc bag.
Add chicken.
Shake to coat with flour mixture.
Heat oil in skillet over medium-high heat.
Brown chicken about 2 minutes on each side.
Place chicken in slow cooker.
Combine soy sauce, vinegar, ketchup, sugar, garlic, ginger, and pepper flakes in small bowl; pour over chicken.
Cook on LOW for 4 to 5 hours.
Add cashews and stir.
Serve over rice.
We steam broccoli and serve on the side. It's a perfect meal for any day of the week!
What's your favorite crockpot dinner?