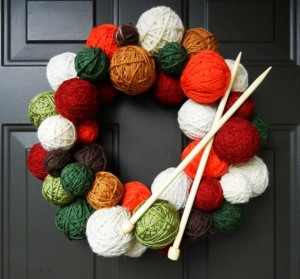 Knitting isn't a lost art.  If you know someone who loves knitting, we have a great diy project for you.  This is a great Christmas gift idea for the knitters in your life or you can show everyone you love knitting by hanging this wreath on your front door!  If my sister and I didn't share this blog, I would make it for her as a surprise, but since we share everything and she is the one with all the yarn… well, here you go, Emily!  When I first saw it, I thought it was complex and you needed lots and lots of yarn. But when I delved in to it a little deeper, I noticed the Styrofoam balls. Piece of cake!
Knitting Wreath Supplies:
30-40 styrofoam balls or Christmas balls (maybe cheaper)
Several skeins of yarn in various colors
Metal Clothes hanger
Hot Glue Gun
Knitting Needles, scissors, Christmas balls, etc for decorations
Knitting Wreath Directions:
The longest part of this project is wrapping the balls with yarn. Get going! Wrap around each Styrofoam ball until you can no longer see the Styrofoam. I hold the beginning piece until I wrap around a few times, and then wrap over it to secure it. To finish the ball, I pull the end through a few layers of the wrapped yarn and cut the end.
Next, unravel the metal clothes hanger, form in to a circle.
Start threading one end of the hanger under a layer or two of yarn on each ball.
Once all balls are on the hanger, use hot glue to hold them to one another.
Finish with hot glueing decorations to the wreath.
Tip: You can use other wreath forms such as a Styrofoam ring. Instead of "threading" the balls of yarn on to the wire of a metal clothes hanger, you would hot glue all balls of yarn directly to the Styrofoam ring or use pieces of yarn to tie them on.
What wreath ideas do you have?
For more great craft ideas, check out our Facebook page, Pinterest page or DIY section here!