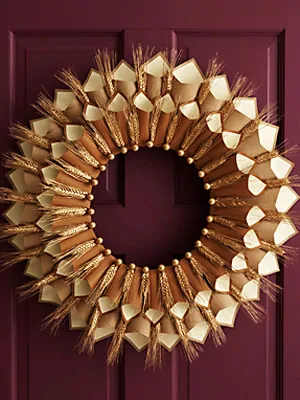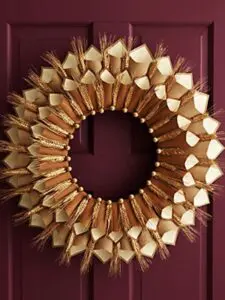 With Halloween behind us, the candy consumed and the leaves almost gone, it's time to look toward Thanksgiving and the busy holiday season. This year, try some simple crafts to get you in the grateful spirit of Thanksgiving. I got this idea and photo from Woman's Day magazine, one of my favorite magazines! This paper decoration is durable and you can find the supplies at any craft store. I got most of mine from Jo-ann Fabrics.

Here's what we did:
You will need:
26 squares of 4″ x 4″ light brown construction paper
26 squares of 3″ x 3″ white construction paper
26 squares of 3″ x 3″ dark brown construction paper
26 squares of 2″ x 2″ white construction paper
Hot-glue gun and glue sticks
14″ metal wreath base
52 stalks of wheat
Gold spray paint
26 gold balls
Strips of paper
Directions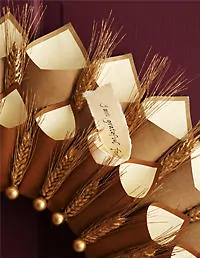 Lay out 4″ x 4″ squares of light brown paper on a diagonal. With hot glue, glue 3″ x 3″ white squares into top corners of brown ones, lining up squares so a sliver of brown is visible. Mold squares into cone shapes; hot-glue at seams.
Repeat step 1 with 3″ x 3″ dark brown squares and 2″ x 2″ white squares.
Fold the very bottom of the larger cones up and over the metal wreath base and fasten in front with hot glue all along the perimeter.
Place smaller cones in the grooves between two larger cones. Tuck bottom corners over the ring, fastening with hot glue on the back of the wreath, until entire wreath is covered.
Cut off bottom of wheat stalks. Lay wheat tops on newspaper and spray gold. Let dry.
Hot-glue wheat tops into grooves between cones.
Hot-glue a gold ball below each wheat stalk around inner perimeter of wreath.
I really like this wreath because you can pass out pieces of paper for your family on Thanksgiving Day. Have them write a note about what they are thankful for this year. They can place inside the cones and share over dinner or keep them inside until the following year.
What are you thankful for this Thanksgiving?