Ever roasted cauliflower?  Ever roasted it and then made soup from it? I hadn't, but let me tell you:  I love the result!  This is an easy and healthy vegetarian recipe! Plus an added benefit is how incredible the spices smell as the soup heats.  The longest part is the roasting so it might be a good fall or winter recipe too but in the summer also ….
It's So Worth The Wait!!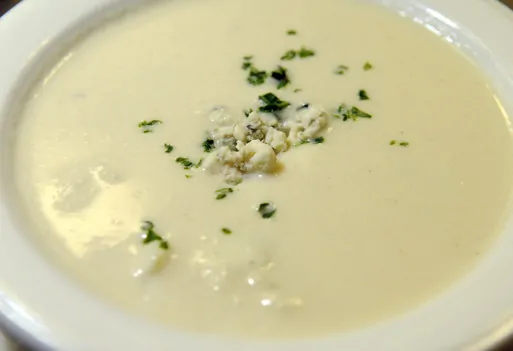 Here's what to do:
Roasted Cauliflower Soup Recipe
Large head of cauliflower
4-5 cloves of garlic
2-3 Leeks
4 Cups of stock (I used chicken)
Sea Salt to taste
Lemon juice to taste
15 oz coconut milk
2 tsp cumin
4 tsp coriander
1 tsp cinnamon
4 Tbsp coconut oil
3 Tbsp olive oil
Directions:
Break or cut the cauliflower in small pieces.  Peel garlic.  Slice white part of leeks.  Toss all with the olive oil and roast in a 375-degree oven until browned.  Keep stirring so oil completely coats and everything roasts evenly.
Meanwhile, in a soup pot melt coconut oil and add the stock and spices.  Oh! what a lovely aroma!!!
After the cauliflower mixture is roasted, place it in a blender with a little liquid from the soup pot.  Puree until somewhat smooth.  Add back to the soup pot and keep warm until ready to eat.
I've been hearing a lot of people use cauliflower in place of things like mashed potatoes. And I love the health benefit of it!
What's your favorite way to work cauliflower into your meals?