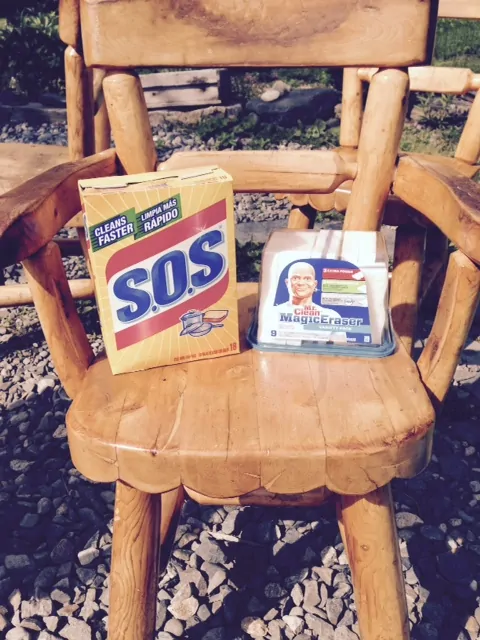 I have what I think is a pretty cool dining set.  It's cool because it was purchased at a yard sale – yay!  Reduce, reuse, recycle!  And it's cool because it's woodsy and durable.  It's a set that has marks from my sons playing with a screwdriver and other holes from pounding nails for some project.  Good times…  The back and arms of these chairs tend to get gunky though.  Gunky as in the polyurethane coating coming off and dirt and stickiness happening.  Eeew!  Here's how I think I've fixed them.
My friend Sandy suggested I use SOS pads to scrub the gunk off.  My new favorite cleaning weapon is Magic Erasers.  So I decided to use both and compare.
SOS was more coarse and really scrubbed the chairs well.  The Magic Erasers did a decent job, but it took longer and more oomph.  A word of caution:  If you are scrubbing a fine or delicate wood (ie., not my abused, used, and loved pine chairs), I'd try Magic Erasers gently.  I think the SOS pads will scour and make marks.
After scrubbing, rinsing thoroughly, and allowing the wood to dry completely, I applied marine polyurethane.  It's thicker than regular polyurethane and shinier — if that's possible.  I'm thinking it has a harder coating and the chairs look great!  I considered redoing the table top, but I can't remove those dents, dings, and holes.  My sons grew up with this table afterall.