Looking for an easy blueberry muffin recipe to make?  Look no further.   Bill and I just got back from Prince Edward Island and with that comes blueberries! (
Read about our trip
) What better way to use blueberries than an
easy blueberry muffin recipe
? This one is simple and delicious!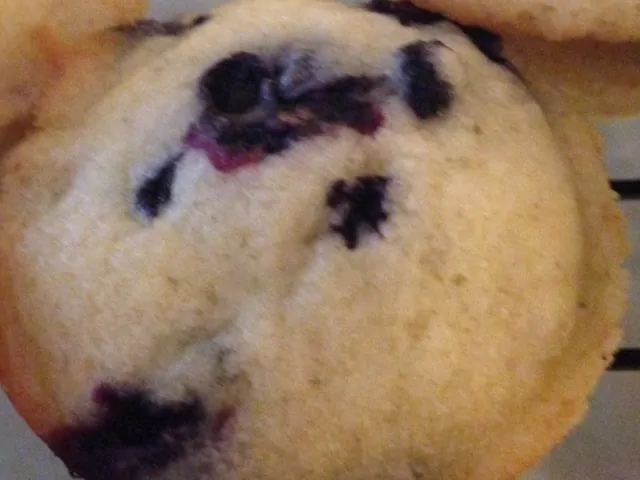 Blueberry Muffin Recipe Tips
Here are a couple tips for making muffins.  If you over-mix the batter, your muffins will not be moist.  They'll be dense.  Because of this, I use a fork to mix the batter.  Place all your dry ingredients in a flour sifter.  After you sift everything into a large bowl, you'll add the wet ingredients.  Use your fork to mix the wet ingredients.  Once  the egg is combined well with the other wet ingredients, add the blueberries.  Adding the blueberries  to the wet ingredients means less mixing when you combine the wet with the dry which means moister, lighter muffins.  This simple trick not only saves time, but achieves an end result you and your family will love.
My other tip is to leave a few lumps when mixing.  I'm not talking about big clumps because they won't incorporate as the muffins bake.  Having a little lump here and there will incorporate with the wet ingredients as the blueberries soften and their juices run.  These blueberry muffins won't disappoint you!
Please do let us know where you get your blueberries and other recipes you use them in!
Ingredients:
3/4 up butter
1 cup sugar
3/4 cup milk
1 egg
1 3/4 cup sifted flour
2 1/2 teaspoons baking powder
1/2 teaspoon salt
1 cup blueberries
1 tablespoon flour
Directions:
Cream butter and sugar together.
Beat the egg and milk together
Add to the butter/sugar mixture and beat together smooth.
Toss blueberries with 1 tsp flour and add to wet ingredients.  Gently stir.
Sift together flour, baking powder and salt.
Add dry ingredients to wet ingredients.
Mix until moistened.
Fill a well-greased muffin pan 2/3 full with the batter.
Bake at 400° for 20 minutes.
***This time I used a mini muffin pan and only baked them for 13 minutes.