It's harvest time in the garden.  Here's one idea for using up the bounty: a healthy, fairly fast, colorful Garden Vegetable Omelette! I LOVE fresh veggies, but they can be a bit overwhelming at times….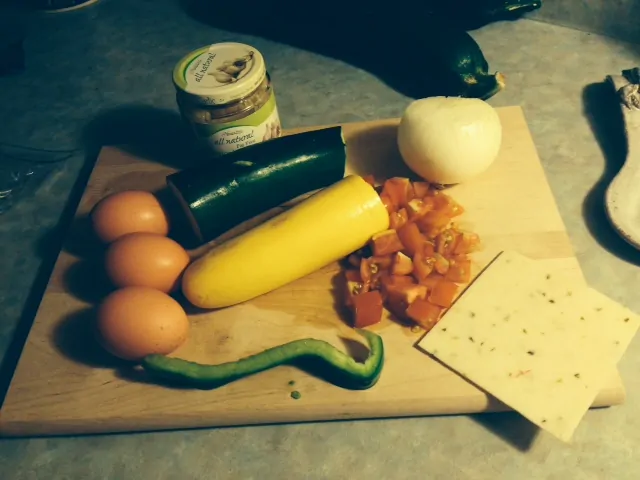 For this garden vegetable omelette, I used about half a zucchini and summer squash, a few edible peapods, some green pepper, onion, and some minced garlic.  After chopping these into reasonably sized pieces, I sautéed them in a little bit of olive oil.  To save time, we recommend Pampered Chef's Food Chopper.  I used extra virgin cold-pressed olive oil.  I've read that the cold-pressed process of making olive oil is healthier for you.
I'm thinking that some kale (a favorite of mine and packed full of vital nutrients), Swiss chard, broccoli, and carrots would be excellent additions to any omelette.  I would always add mushrooms, but Chris doesn't care for them and this meal is being shared with my sister.  (In the case of mushrooms, she doesn't know best).  Hey, the sky's the limit here!!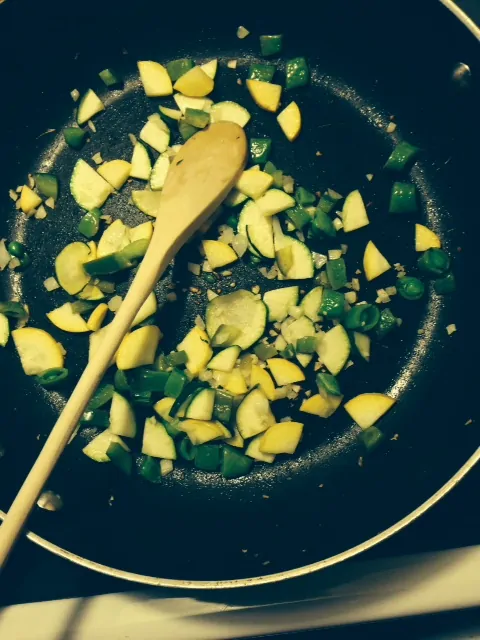 When the veggies start to soften and the aroma is ever so yummy, I add some chopped cherry tomatoes.  I find if you add the tomatoes with the other vegetables, they get pretty mushy.  I like my tomatoes to still have form in this dish.
Vegetable Omelette Variation
I don't always have milk on hand, so I just crack my eggs on top of the veggies in the skillet and scramble them around  and layer on cheese.  Be creative here!  Spicy jalapeno cheese with feta, cheddar, American, provolone, Swiss — go crazy!!!
The final product: what do you think of this veggie omelet?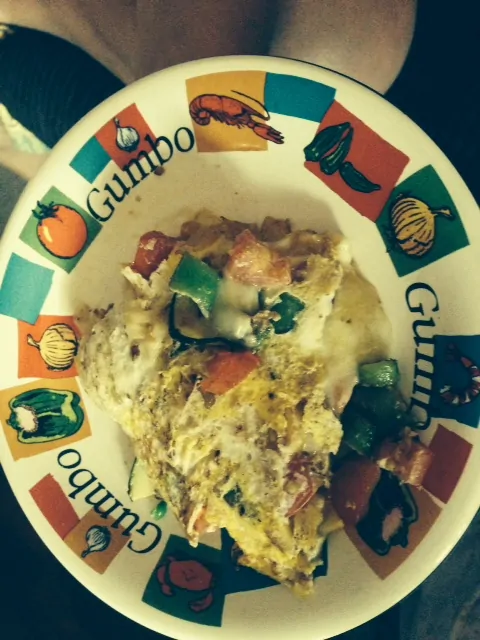 Have you tried green Tabasco sauce?  It's a milder version of the red Tabasco.  It goes wonderfully with an omelet.  Sometimes I top omelets with sour cream and/or salsa.  Hey, you could make up a batch of fresh garden salsa when inundated with tomatoes….  Just sayin'.
Take a look at our other vegetarian recipes.