These New Year's Eve party ideas for the kids will keep you sane.  Because NYE isn't just for adults anymore. Kids want to have their own fun.  It doesn't matter if they're asleep well before the ball drops at midnight. For as long as they stay awake, there are great food, drinks, and games to keep things fun and make them feel like they're a part of the New Year's celebration.
Sisters Know Best's Fave New Years Eve Party Ideas:
Food for Kids New Year's Eve Parties
Party food for kids needs to be fun and taste good. Here are just a few of our favorite ideas!
Edible Party Horns
Sparkly and not too loud, these edible party horns will delight the kids and preserve your sanity. They're also super easy to make from store-bought ice cream cones. Toot! Toot! Actually, that's the part that you won't hear. Unlike most party horns, these are silent.  So you won't lose your eardrums – or your mind – listening to them honking all night!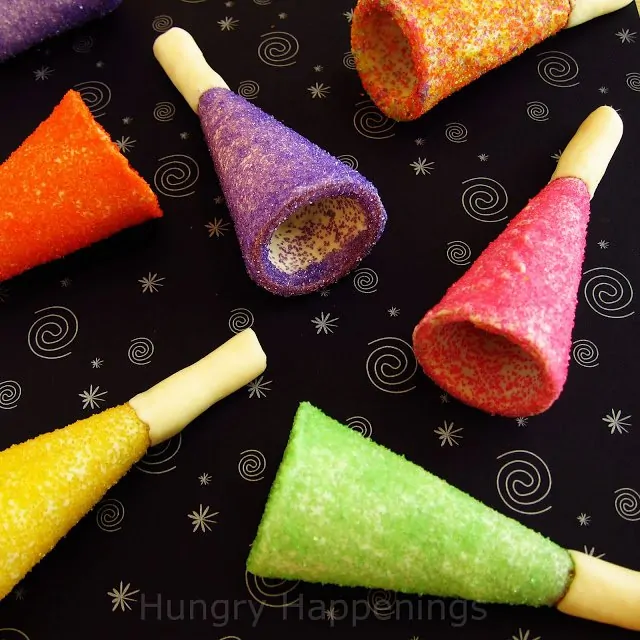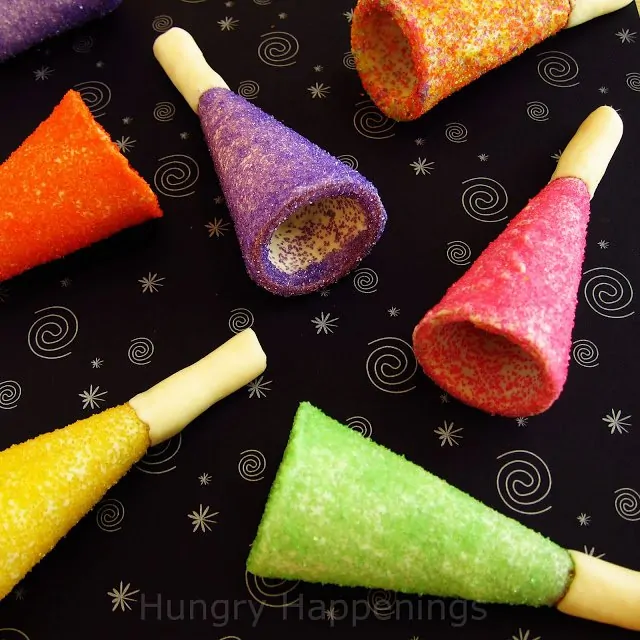 Oreo Cookie Clocks
What kid doesn't love Oreos?! Or what adult, for that matter. On New Year's Eve, kids can have their cookies and maybe learn a little, too. Decorate them to look like clocks and put the hands at different times to see which of the party kids knows their "double stuff." How's that for an amped up Oreo cookie?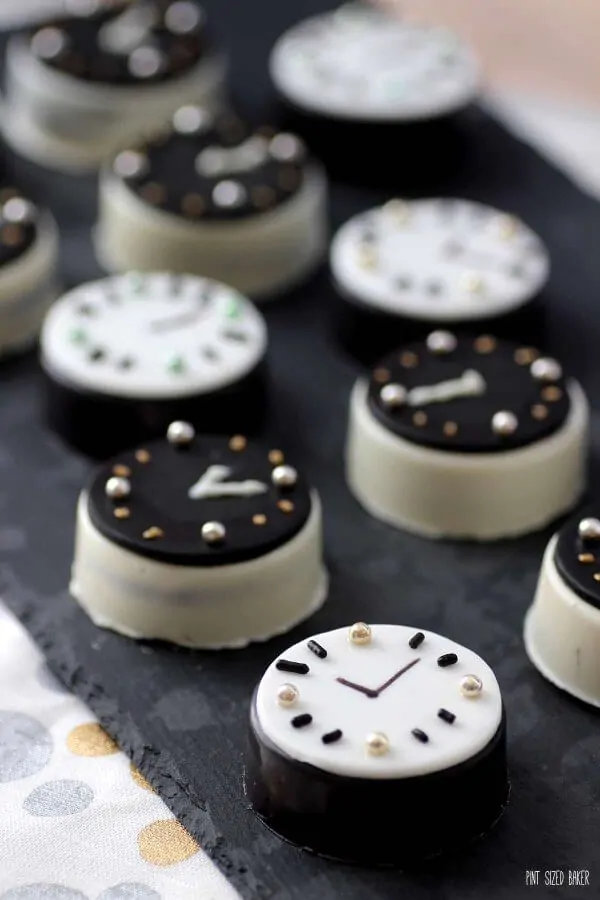 New Year's Eve Marshmallows
It's probably too cold to roast marshmallows over a campfire.  But that doesn't mean there's no room for this sweet treat at your kid's New Year's celebrations. Plus, these marshmallows are super easy to make! Put them on a stick and decorate them with your kids. Yum!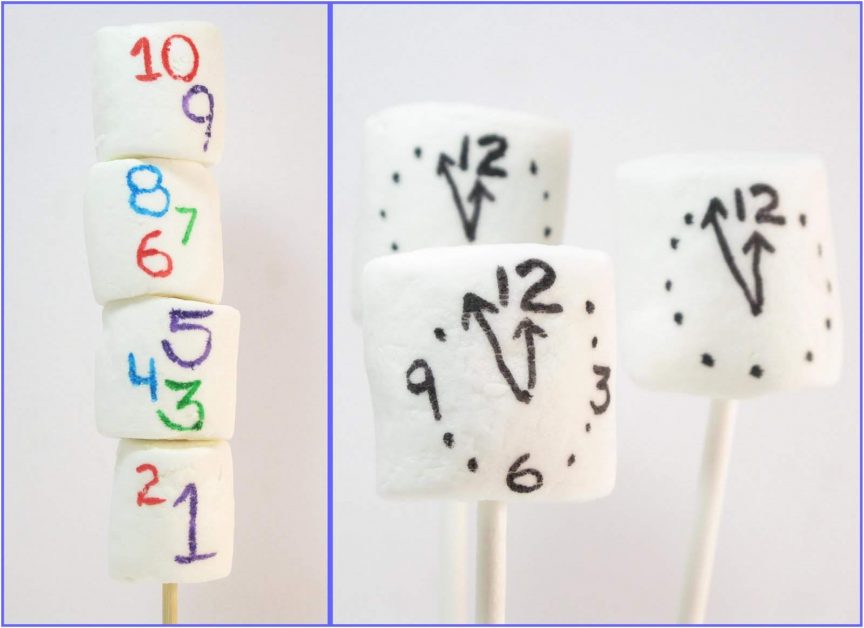 New Year's Eve Party Drinks Ideas for Kids
The kids see you having special drinks and you know they're going to want some. Instead of having that turn into a "discussion", make them their own special drinks.
Fancy Mock Shots
We know you don't want to encourage your kids to drink, but they also want to feel like one of the adults. Dressed up glasses filled with juice, makes them feel like they're getting a treat.  And you know that it's healthy. Win-win!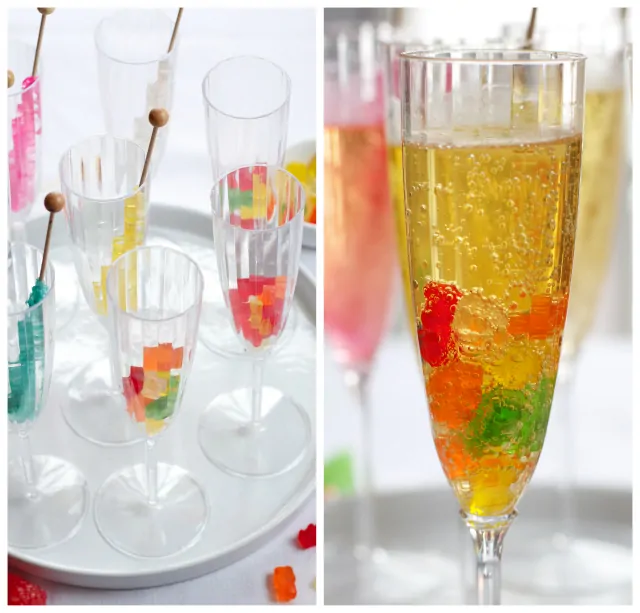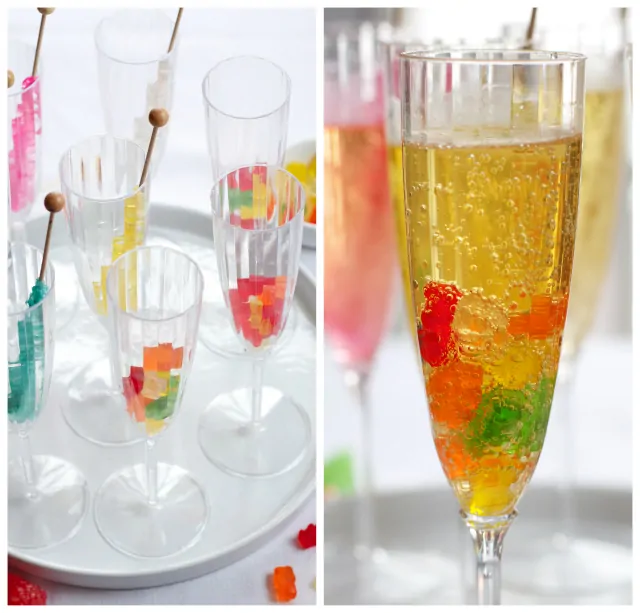 Sparkling Cotton Candy
Sounds pretty cool, right! It is! Make it table-side for some added entertainment too. All you need is sparkling water and packages of cotton candy you can get at just about any store. When combined, they change color and fizz a little to make the coolest sparkling cotton candy beverage.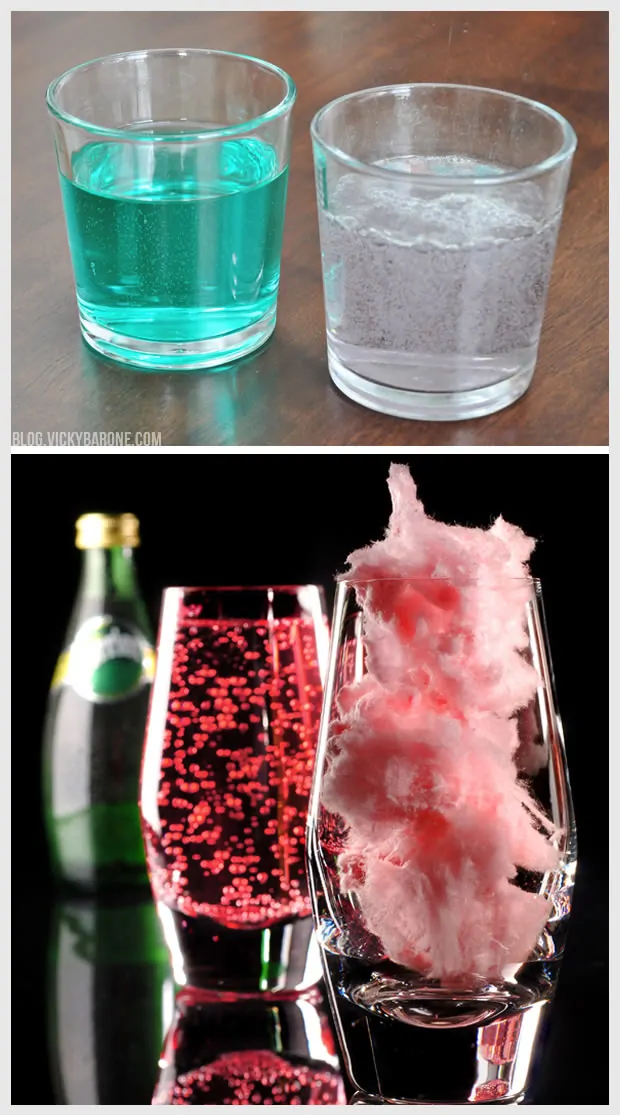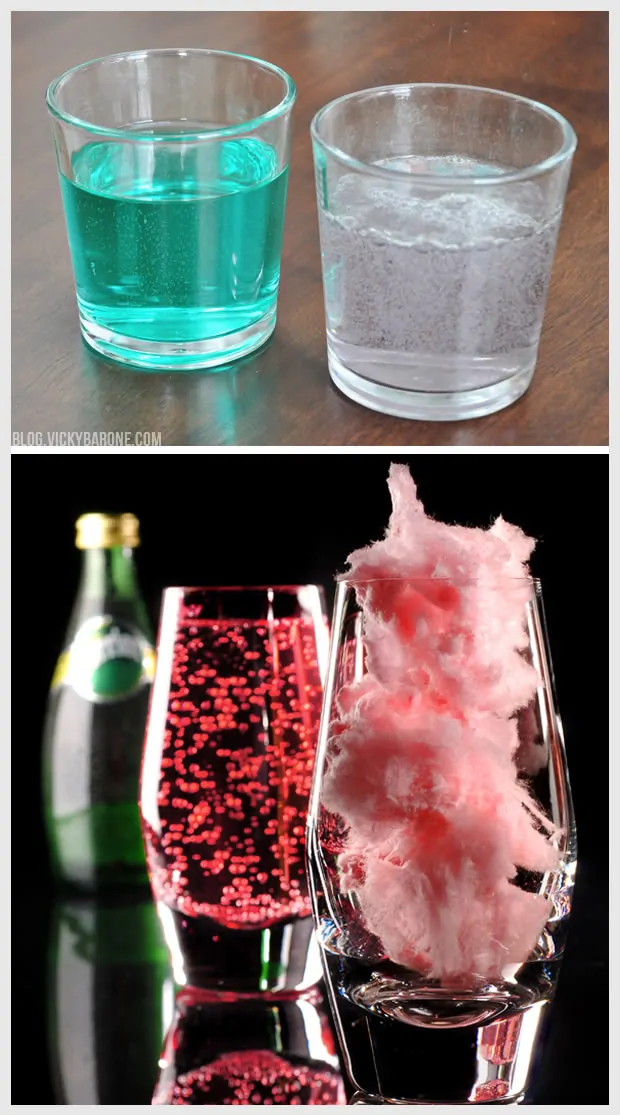 Smurf Punch
If your kids dressed up as one of the little blue people for Halloween, Smurf Punch is right up their alley. Even if they didn't, the blue color is so appealing for the kids.  We're sure this drink will be a hit with all the kids on New Year's Eve.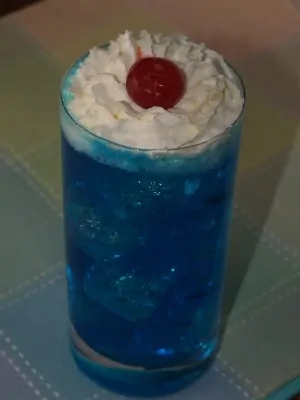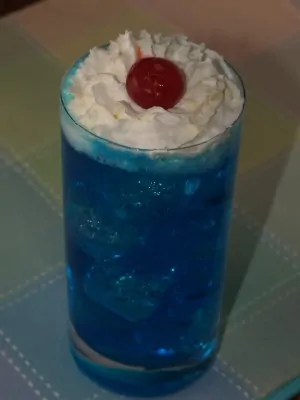 Kid's Activities Ideas for New Year's Eve
Whether they stay awake until midnight or they ring in the New Year at 9pm, the kids will want something to signify the arrival of the New Year.  They also want to be entertained in the meantime. Check out these fun ideas!
Balloon Drop
For most kids, staying up to midnight to watch the ball drop on TV isn't going to happen. And let's face it, you want them to head to bed so you can have some adult fun anyway. With a balloon drop, the kids will have the fun of ringing in the New Year no matter what time it is.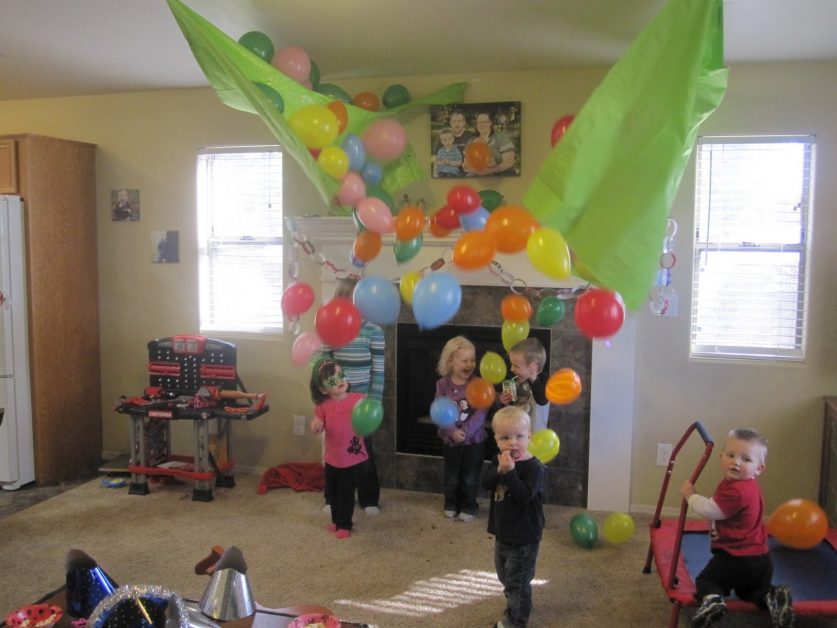 DIY Party Hats
Hats are a must for a proper kid's celebration. Keep the kids entertained by having them make their own. It's easy and fun!  Although they may need a little supervision, it will free you up to spend some time with your adult party guests.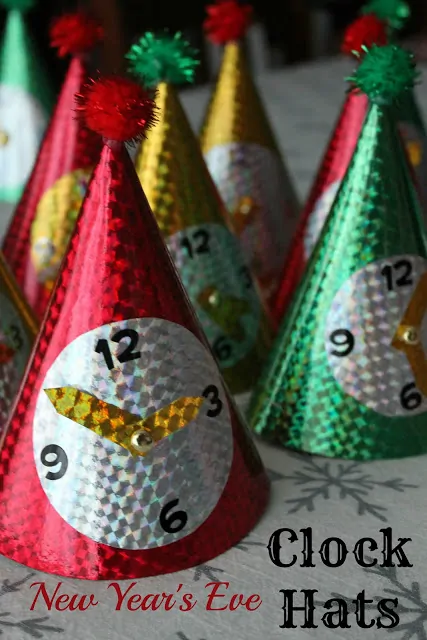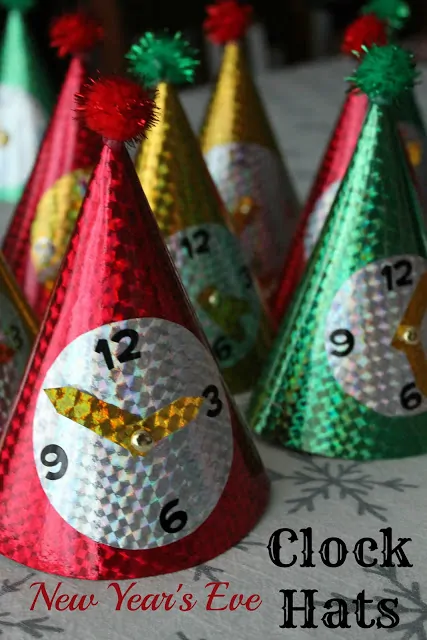 Scavenger Hunt
This is a great way to relive some memories! Hide the clues well enough and this scavenger hunt will keep the kids occupied all night long. Just don't hide them so well you forget where you put them!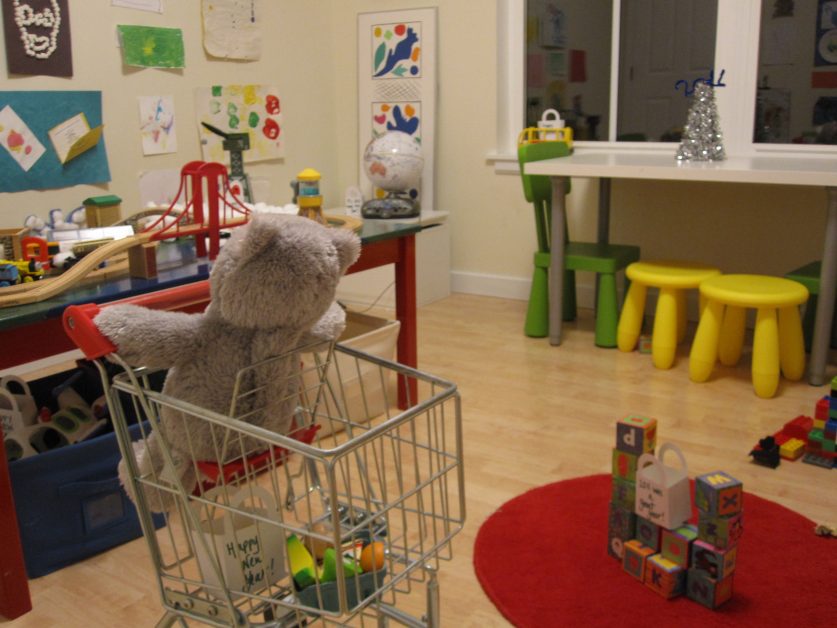 You and your kids will have a great New Year's Eve with special food, drinks, and activities just for kids. We hope you and yours have a blast.  Happy New Year from Sisters Know Best!