It was only a short time ago that I was sharing how I harvest my vegetables and how to prepare my garden for winter, and already it's time to start working on those pesky weeds!  Pulling weeds is not anyone's favorite thing to do, and there are hard-to-get-to spots in every garden.  Here's an easy solution.  Natural Weed Killer – this stuff REALLY works and isn't harmful to you or animals.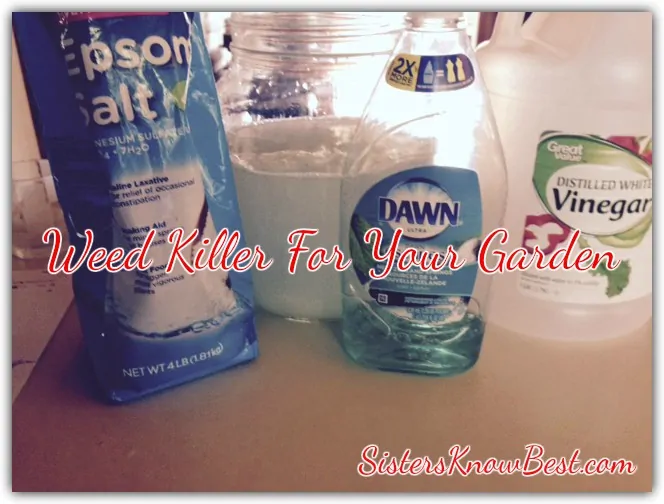 In front of my house, I have an herb garden that has been left untended for quite some time.  It's frustrating to see how overgrown it has become.  I'm exhausted before I even start.  Ever been there?  My gardens are organic, and I will keep them that way; but I needed some help by way of eradicating the weeds.
I experimented with different mixtures of Epsom salts, Dawn dish detergent, and white vinegar.
Here's my recipe:
1 Gallon of Vinegar (use the cheapest you can find)
2 Cups Epsom Salts
1/4 Cup Dawn Dish Detergent
Mix up all ingredients and spray on those pesky weeds.  I found spraying on a hot, sunny day worked best and problem weeds were sprayed on two different occasions.  I saw results two days after spraying!
What ways do you combat your garden weed issues?  I'd appreciate your ideas for organic weed control!
If you missed my post about what to plant and how to maximize garden space, you can catch it here.
Gardening is one of my passions. See more about garden tips and tricks.