How many of you have eating better or losing weight on your list of goals for the coming year? If you're like most Americans, health and fitness are probably somewhere on your goals or resolutions list. Maybe you've joined a gym in the past only to stop going two or three months in. This year, do it differently by finding a few easy, healthy, and really yummy recipes you can make at home. You just might find that small change has long-lasting effects. Here are some of our favorite healthy recipes to help you start off the new year.
Our Healthy Recipe Choices
Low Fat Clam Chowder
As a New Englander, clam chowder is a traditional favorite, but it's also not usually the healthiest soup option, no matter how cold or snowy it is. That's why I love this low fat clam chowder recipe. All the clam-y goodness without the guilt! Yum!
Roast Chicken and Sweet Potatoes
Right off the bat, this one sounds fabulous. And we aren't disappointed! Moist roast chicken and the healthier starch, sweet potatoes, made a great meal the whole family loved. Try roast chicken and sweet potatoes as one of your healthy weeknight meals and bring the leftovers for lunch.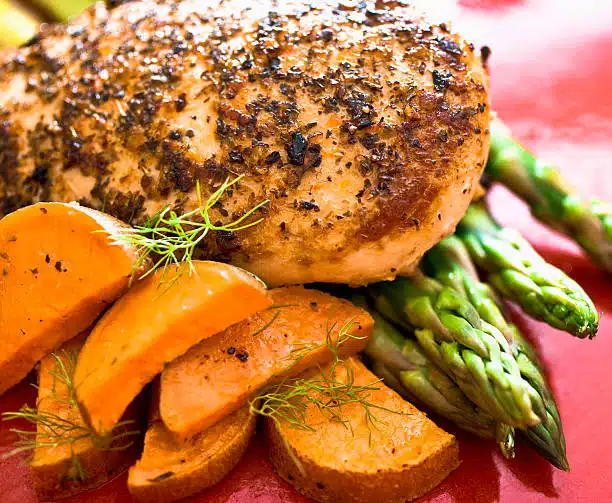 Vegetarian Orzo and Spinach Soup
Soup is great in the cold months, but we love it all year round. One of our favorites is vegetarian orzo and spinach soup. It's so hearty even my husband doesn't complain that there's no meat in it and so easy to make. I suggest making a big batch and either freezing some or simply enjoying it all week long. You won't be disappointed.
Glazed Chicken and Veggie Bake
Simple enough to make after work, yet so good your family will think you either ordered out or slaved over the stove all day. The secret to this glazed chicken and veggie bake is the spice rub. It's truly a restaurant style meal without all the added salt and butter (which add lots of hidden calories.)
Chicken Taco Avocados
OMG! Honestly one of the coolest recipes ever! Such a great idea using avocados instead of taco shells. Much easier to eat and far more nutritious. It's almost like add guac to your taco, but without the mess of all the filling falling out everywhere. When I make chicken taco avocados, no complaints about dinner and everyone goes back for seconds.
Key Lime Pie
Eating healthy doesn't have to mean giving up dessert all the time or forbidding yourself to have an occasional treat. One of my favorite healthy dessert options is key lime pie. It's quick and easy to make. It's also light which means that not only am I eating fewer calories than I would with the same size slice of cake, I also don't feel so full or tired after I eat it. Give it a try, I bet you'll love it, too.
Eating healthier, taking better care of yourself this year doesn't have to be difficult, boring, or stress-inducing. Delicious meals that are easy to prepare, and even more fun to eat and share with your family, help make your health goals easier than ever. We hope you like our healthy recipes to start the new year. Even more, we love hearing from our readers! Let us know what healthy recipes you enjoy the most – we just might feature it on the site (we'd give you credit, of course!)
In the meantime, healthy eating folks!