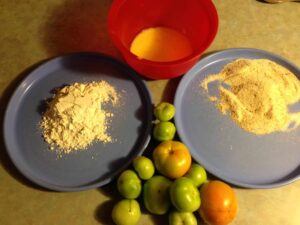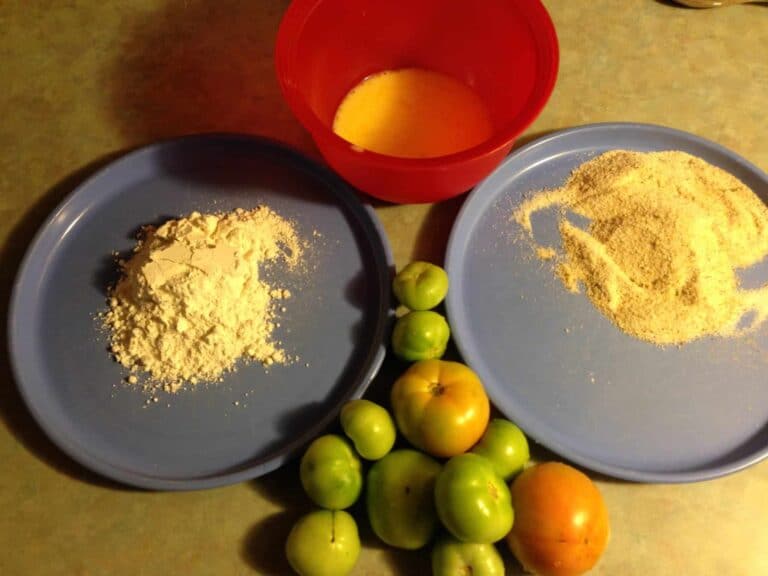 Tomatoes don't speed up their ripening for the cold weather. Yes, you can pick tomatoes and put them in a cardboard box or paper bag to ripen quickly but what about the ones that don't ripen? I've never tried fried green tomatoes but every fall I am reminded of them. One of our Dad's favorite movies was Fried Green Tomatoes (Widescreen Collector's Edition)
. In fact, it seemed every time I went to visit him, he was watching that movie. He said he never tried fried green tomatoes. I wish now I had made them for him. He would have loved them! So this easy Fried Green Tomato recipe, I dedicate to Dad.
Fried Green Tomato Recipe Ingredients
4 large green tomatoes. I was at the end of my tomatoes so mine weren't that big. Next time I will make sure to have big.
2 eggs
1/2 cup milk
1 cup flour
1/2 cup cornmeal
1/2 cup bread crumbs. I used Italian style.
2 tsp salt
1/4 tsp pepper
1/2 cup oil.
Directions for Fried Green Tomato Recipe
Heat oil in a skillet on the stove on medium heat.
Slice tomatoes 1/4 inch thick
Put flour on a plate.
Combine cornmeal and bread crumbs together and place on another plate.
Whisk milk and eggs together in a bowl.
Dip tomato slices in flour, then in egg and milk combination, then in breadcrumb and cornmeal mixture. Finally, place in skillet.
Brown on one side. Flip. Brown on the other side.
Be careful! The middle is very hot.
That's all there is to it! We really enjoyed this experience and are putting it on our list of recipes for harvest time each fall when we have tomatoes coming out of our ears. Take a look at our other ways to use excess vegetables in this post.
We dipped in a variety of things. Our favorites were: horseradish, Vidalia onion dressing, ranch dressing, and thousand island dressing.
I didn't like them once they cooled off but you could probably crisp and warm them back up in a toaster oven for later. What did you think of them?