Making a DIY Easter decoration is a great way to prepare for the holiday. Baby chicks, bunnies, eggs, and pastel colors – oh, my! After a long, dreary winter, the colors and signs of new life are a welcome addition to any home.  In addition, some of the following Easter decoration ideas are guaranteed to be keepsakes!  So it's not hard to find a few that are perfect for your family and your home. Here's some of our favorites. We hope you like them as much as we do!
 

Easter Decoration Egg Garland

 

This Easter Decoration is easy and fun to do with the kids! Cut egg shapes out of paper (we like to make a traceable cardboard template to make sure they're all the same size and shape) and let your kids paint them to look like Easter eggs. Now glue them to a length of string and hang. The Easter egg garland is perfect along the fireplace mantle or on a fence if you're not expecting rain.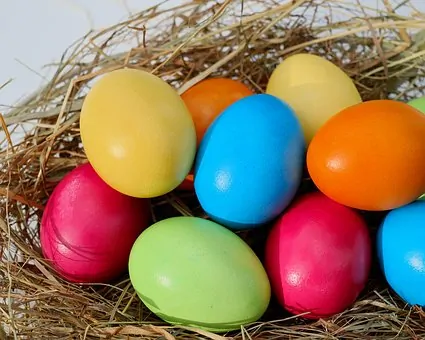 Silk Fabric Easter Decoration Eggs
This is pretty amazing! Silk fabric and eggs actually love to hold onto each other. Vinegar and hot water add the magic that makes the silk stay on the outside of your Easter decoration eggs to make some amazingly intricate designs. Your guests will be jaw-dropping impressed!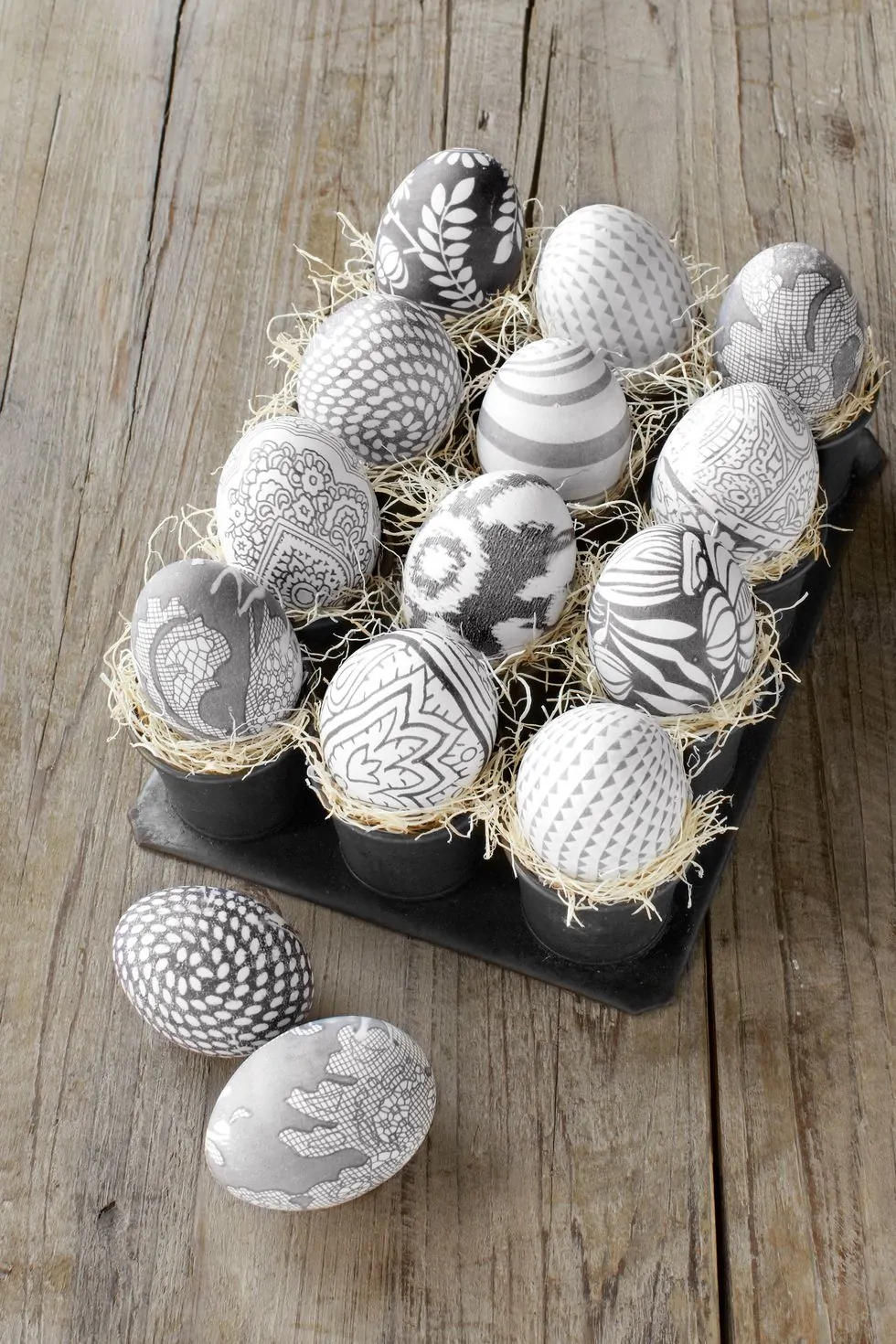 Easter Decoration Bunny Napkins
In many homes, Easter is an occasion for a more formal meal. If that's the case in your house, these adorable Easter bunny napkins are the perfect addition to your table. Cloth napkins, pompom trim, and fabric pens or paint are all you need to make the cutest addition to your Easter table. 
Easter Gumball Machine
Since many of Easter's classic symbols also come in candy form, what could be cuter than creating a cute centerpiece for your table with a classic looking gumball machine and plush or candy Easter bunnies?! Honestly, it's too cute for words! 
Easter Decoration Sock Bunnies
OMG! These are seriously adorable. Also, it's the perfect way to make use of those mate-less socks that always seem to come back from the dryer. Sock bunnies are an adorable addition to any Easter basket or kids room. 
Peeps House
You know all about gingerbread houses at Christmastime. The peeps house is the same idea, but it's for Easter. And since Peeps are some of our favorite Easter candies, we can't resist eating a few while we make their houses.  We admit:  it's easy to get carried away and make an entire Peeps village!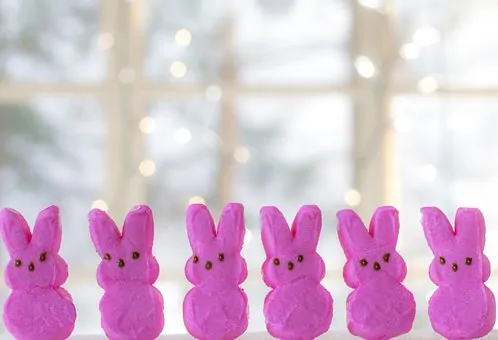 Confetti Easter Decoration Eggs
If you don't want to clean up bits of little paper and glitter, the confetti eggs might best be used outside. Include them as part of your Easter egg hunt and let the kids toss the confetti located inside the eggs on themselves and each other.  Good times!
Candy Jars
Jelly beans, malted eggs, and other Easter goodies don't have wrappers. Keep them clean and easily accessible for a sugar fix with these easy and cute Easter candy jars. They're also sparkly – we love that! 
Plastic Egg Garland
If the paper egg garland above wasn't for you, check out this great idea for stringing plastic Easter eggs to make a colorful garland. This is perfect for inside or out, no matter what the weather. If you're feeling really creative, add some extra color with paint or markers. 
Burlap Table Runner
For a rustic look, burlap is always popular. Adding some stencils for Easter makes it the perfect table décor for a rustic Easter meal with your family. Super easy and fast, you can make it Easter morning just in time for company. 
Egg Tree
You've got the Christmas tree thing down solid, but how about an Easter tree? Super cute as a living room side table display piece and you can reuse it every year. It's a great way to use those plastic eggs after the kids find them and devour the candy contents.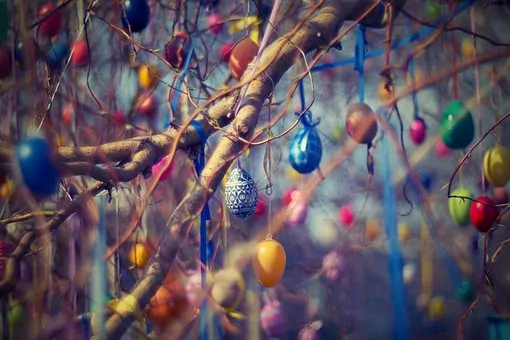 These are just some of our favorite DIY Easter decorations. What other ideas do you have? Let us know in the comments below.  And make sure to visit our Easter pages on the blog! You'll find lots of ideas for making your Easter egg-stra special like making a bunny mask and other spring crafts!