Aioli sauce adds a whole new dimension to simple meals! It's so simple and goes well with anything! We had it on chicken tenders and on potato wedges. I used Hellman's Light mayonnaise to cut down on calories. It would also be great on a sandwich or as a veggie dip.
Aioli or aïoli is a Mediterranean sauce made of garlic and olive oil. In some regions, other emulsifiers, such as egg, are used. The names mean "garlic and oil" in Catalan and Provençal, which makes sense since those are two of the basic ingredients in this easy to make sauce.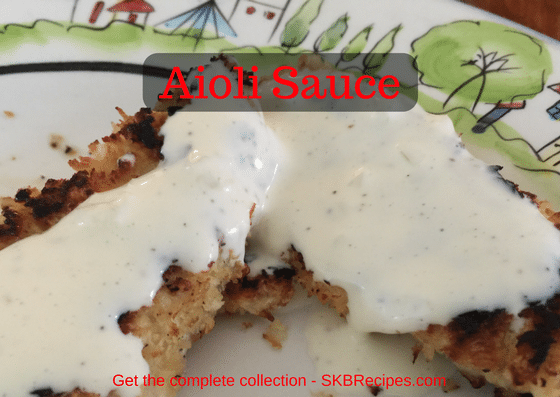 We haven't tried this yet, but a traditional French Aioli platter would make a great party offering. Place a bowl of this amazing aioli sauce in the middle of a large platter. Surround it with cooked artichokes, poached cod, beef carpaccio, snow peas, green beans, steamed new potatoes, cherry tomatoes, hard-boiled eggs, sliced peppers, and zucchini…or whatever veggies you like! If you're going for a vegetarian spin, just leave off the meat and eggs. It all tastes great when dipped in the aioli sauce.
And speaking of potatoes, we had our first taste of this aioli sauce with potato wedges. Try this traditional Spanish potato salad. It's simple. Mix boiled and sliced potatoes with aioli sauce and parsley. It's a great side dish for a picnic or backyard cookout.
Another great alteration, if you like a bit of spicy kick in your food, is to add some horseradish to your aioli sauce.
No matter how you mix it, aioli sauce is a versatile condiment. It's great on sandwiches or as a dip for meats, veggies or seafood. If fried foods are more your style, they taste great in aioli sauce too!
What other ways have you used aioli sauce? How did you like it? We love to hear from our readers! Leave us a comment and get the food conversation started.