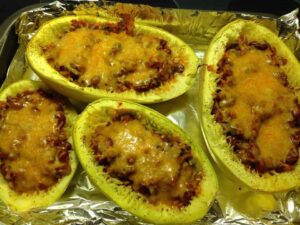 I made this easy Mexican Spaghetti Squash recipe for my family and they went nuts for it. I actually had to go buy more squash to do it again! The kidney beans make it seem like a meat dish and the zesty sauce add a lot of flavor to it. It's a healthy recipe but has the comforts of a hearty meal we crave in the cooler months.

Here's what I did:
375° for 45-50 minutes, and then additional 10 minutes
Ingredients
1 small and 1 medium spaghetti squash
1 green bell pepper, diced
1 onion, diced
7 garlic cloves, minced
1 can tomato sauce (15 ounce)
1 can kidney beans (15 ounce)
2 1/2 tbsp. diced, canned jalapeno
1/2 cup fresh cilantro, chopped
Salt
Pepper
1 cup Mexican taco cheese
Directions
Cut spaghetti squash length wise in half. Scoop out the seeds.
Place skin side down on a lined pan.
Sprinkle salt and pepper on top
Bake 45 – 50 minutes at 375°
Meanwhile, sauté green pepper, onion, and garlic until cooked
Add tomato sauce, jalapenos, and cilantro
Let mixture sit until squash are ready.
Use a fork to drag across the squash to make spaghetti strands. BE CAREFUL not to puncture the skins, but loosen up quite a bit of the squash. Don't forget the edges.
Next, add the tomato sauce mixture on to the tops of each squash and cover each with the cheese.
Return to the oven for 10 minutes.