It's harvest time again and like many of you, we are wondering what to do with it all! So many zucchini, summer squash, carrots and other yummy harvest vegetables. If you missed our post on how to preserve garden vegetables be sure to check it out for some easy ways to make it last longer. But back to this delicious summer vegetable chowder recipe.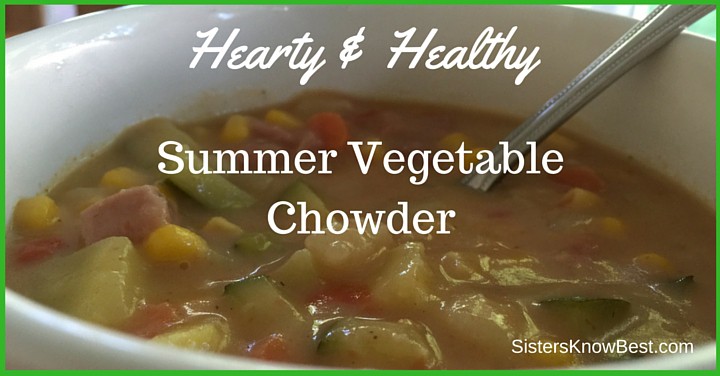 In a large stockpot, heat butter over medium heat.

Add in garlic, onions, carrots, and potatoes. Stirring often, cook for about 5 minutes.

Add in the chicken broth. Cover and cook for 15 minutes. The carrots and potatoes should be soft.

Add in corn, zucchini, tomatoes, chicken and/or ham, and seasonings (not the cornstarch.)

Heat for another 10-15 minutes, until mixture is starting to boil.

Lower heat and add all but 2-3 tablespoons of the evaporated milk.

Mix in remaining evaporated milk with the cornstarch and mix until combined. Stir this into the stew.

Let simmer for another 10 minutes.

Top with some shredded Parmesan cheese on top of each bowl of chowder.
The ingredients above don't have to be exact. I had a little more potato and a little less carrots than what it called for and it was amazing! Thank you Butter with a Side of Bread for the great recipe to work from!
What creative ways do you use your plentiful garden vegetables?