Have you tried juicing yet? It's a tasty, easy way to get the nutrition you need without having to come up with a week's worth of meals. Whether you're new to juicing or have been doing it for a while, the Magic Bullet Pro 900 is a necessary appliance for your kitchen. Emily and I got together last month and one of our purchases was the Magic Bullet. We were both so excited and even more so when our significant others agreed to jump on board having a shake a day with us! Bill and I have even graduated to having 2 a day and have noticed an increase in our energy and a decrease in our bellies. We couldn't be happier with it! Here's our Magic Bullet Pro 900 Review if you have been on the fence about it.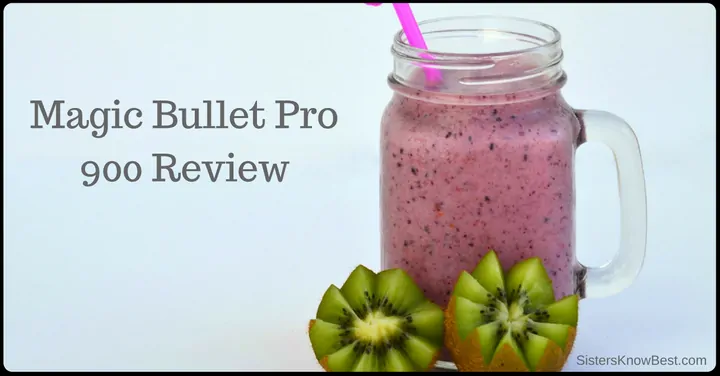 Easy to Use
It's a simple as tossing in anything you want and hitting the button. The Magic Bullet Pro 900 liquefies everything, including nuts! For people trying to avoid dairy, this is a great way to make your own almond or cashew milk. If you're a vegetarian and vegan, the fast, easy to use method of preparing vegetables, fruits, and nuts removes many of the challenges involved in living such a lifestyle. For meat eaters, this is an easy and tasty way to add the necessary fruits and veggies to your diet. The whole setup takes less than five minutes to get up and running.
Easy to Travel With
Unlike Vitamix or some of the other blenders on the market, the Magic Bullet 900 is compact enough to fit the entire thing in a travel bag. Also, the interchangeable lids make it easy to blend a juicy breakfast and take it with you on your morning commute or while walking the dog.

Easy to Clean
For those who don't enjoy kitchen clean up, the Magic Bullet 900 has that covered. All the parts are dishwasher safe and come apart easily. If you don't have a dishwasher, a simple bottle brush or drinking glass cleaning wand make cleaning this machine a snap. Pro tip: it's worth the investment in a hand washing tool since the containers are narrow, making it hard for most hands to fit inside with a regular sponge.
Healthy
Definitely, consult your doctor before making any drastic dietary changes, but if you're ready to start getting healthy, the Magic Bullet 900 is the way to go. When combined with proper exercise and healthy meals, this juicer and smoothie maker provides an easy way to get tasty nutrition into your diet. Most Americans don't get enough fruits and vegetables in their diet. If you're among them, the Magic Bullet 900 makes it easy to correct this deficiency.
Advice for Using the Magic Bullet 900
To ensure you're getting complete nutrition, make sure to add some form of protein. There are huge numbers of powdered protein available, including those appropriate for vegan and vegetarian diets.
Unless you're buying organic, peel your fruits and vegetables wherever possible. This will decrease the ingestion of toxic chemicals sprayed by the growers and keep your system healthier.
This tiny machine has a powerful motor which can cause it to overheat if left on for too long. Don't just hit the button and walk away. Stay nearby and don't leave it running continuously for much longer than a minute or so.
Don't forget seeds and nuts. Not only do seeds and nuts have amazing nutritional properties, they'll also add dimension and flavor to your smoothie.
Grains are great too! If you're making a breakfast smoothie, try adding oatmeal to it. Not the instant kind which has a high glycemic index, use rolled oats which will help lower cholesterol without raising your blood sugar.
Magic Bullet 900 Recipes
Although the Magic Bullet comes with a recipe book, you can get creative and make your own too. Think of your favorite healthy food items or meals and try to recreate that flavor. You can add some dimension to your smoothies by adding herbs and spices. Fan of pasta and red sauce? Try this:
Put flax seeds, tomato, pepper, celery, basil, oregano, parsley, garlic, and water in your Magic Bullet 900 and blend until smooth. Presto! Drinkable pasta dinner.
Since buying my Magic Bullet, I've looked around and as always, they are reasonably priced on Amazon. Here's our affiliate link if you are interested in purchasing a Magic Bullet from Amazon.
What other recipes do you make in your Magic Bullet 900?