The holidays usually mean lots of sweet treats and other food that's terrible for my diet. If you're anything like me, it's easy to gain 15 pounds between Thanksgiving and New Year's Day. This year will be different thanks to all the yummy holiday protein shake recipes I can pick from. Check them out and see if they can help you stick to your diet this year.
Keep in mind when you make these shakes that I used the ViSalus Shake Mix. It tends to be a little sweeter than most protein powders (and yummier!) so if you are using a different one, you may need to adjust the recipe for sweetness.
Top Christmas Protein Shake Recipes
Eggnog Protein Shake
A lot less fat than eggnog from the store, and non-alcoholic, this eggnog protein shake lets me share in the holiday festivities and enjoy a classic beverage without worrying about all the fat and sugar going right to my hips. What a relief!
Gingerbread Cookie Shake
Gingerbread cookies are a holiday favorite in my house. But I know as soon as I eat one that little gingerbread man's hips are going to make mine bigger. Ugh! Instead, I enjoy a gingerbread cookie protein shake for a guilt-free holiday treat. Also, I don't have to feel bad biting a gingie's head off!
Candy Cane Protein Shake
Oh man! Candy canes are a total weakness for me. They look great on the tree and there's just something about that sweet, minty flavor. They're definitely not the worst holiday treat for my diet, but they're not great either. For a better alternative, check out the candy cane protein shake.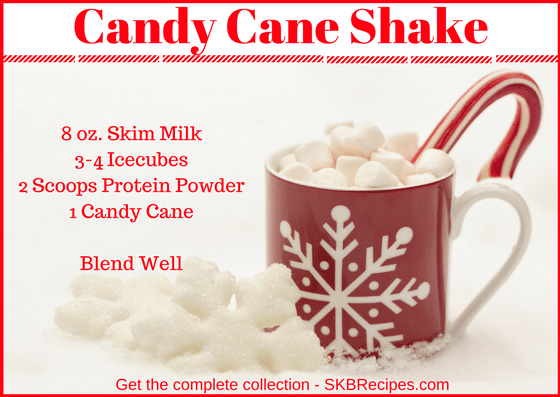 Happy holidays! At SKB Recipes, we hope these holiday protein shake recipes make your holidays merry, filled with good cheer, and help you stick to your diet a bit more easily.
Don't forget, we love hearing from our readers! If you've got other holiday shakes you love, share them in the comments below. We just might feature them on the site! Or, if you tried any of our holiday shakes, tell us which one(s) and what you thought of it!