Who doesn't want more Mason jar ideas?  We sure do!  Mason jar projects are super fun and attractive! They are a staple in the farmhouse as well as the backyard.  Use them in the pantry and the bathroom. You get the idea! These treasures have so many uses other than canning!  Even if you don't have a bunch of spare mason jars, you can pick them up at a reasonable price. These are the ones we use.
Growing up with homemade grape juice and pickles is just the start of a lifelong obsession. Canned goods are the most cost-effective option for feeding a hoard of growing boys and girls. Mason jars seem to multiply, however. So here's what you do with all those jars. You get creative! And Sisters Know Best has the most wonderful list of 75 uses for Mason jars. Yes, you read that right! SEVENTY-FIVE Mason Jar Projects!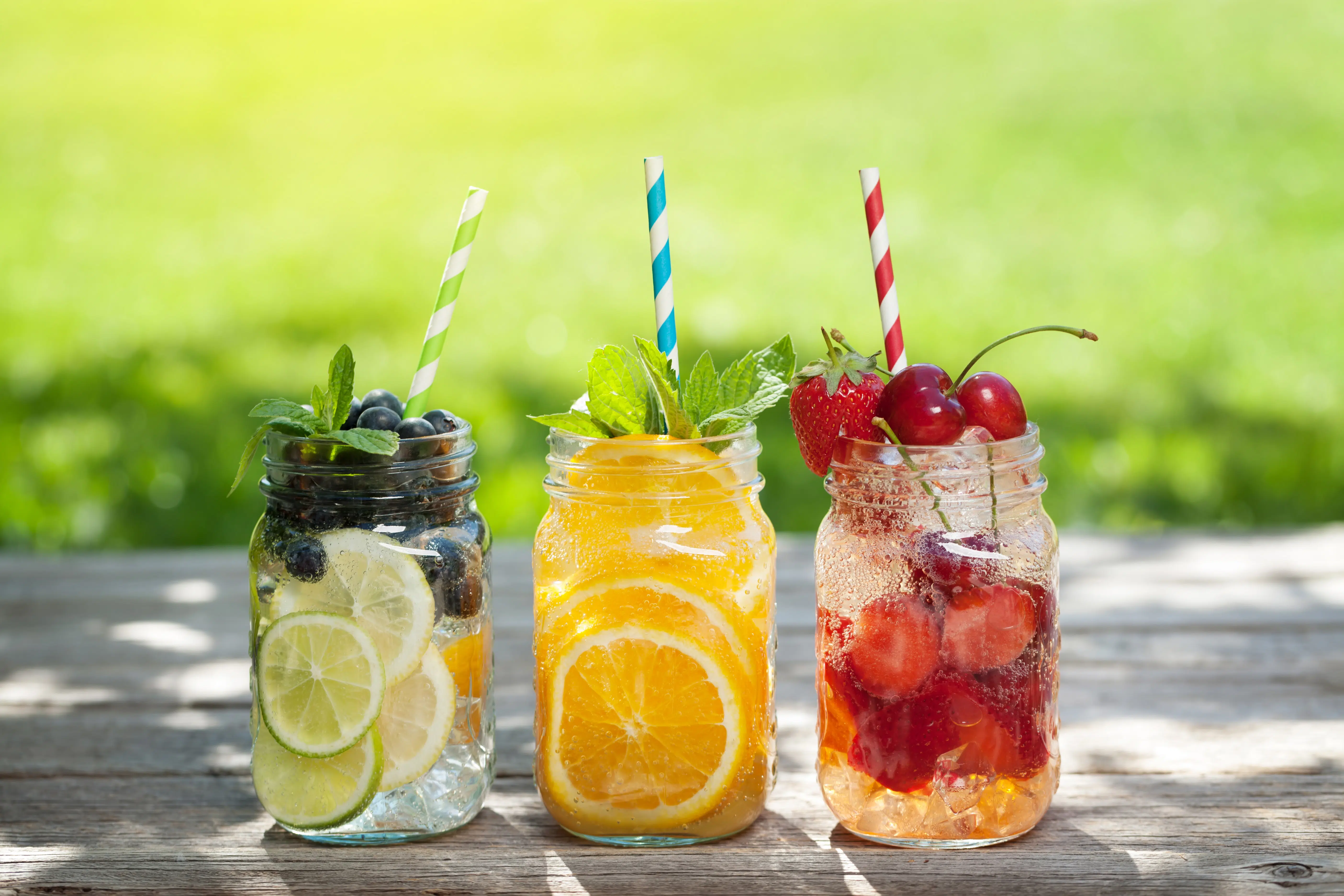 Mason Jar Ideas
To begin, dessert first!  We are new to Mason jar lid tarts.  Wow!  We're impressed.  They are so cute on a decorative platter. Serve them alongside pre-made cocktails.  It is our belief that ANYTHING served in a Mason jar is the bomb!  Ever heard of barbeque in a jar?  Yes, it is a thing!   Sisters Know Best uses canning jars for lunches all the time.  First, toss in your greens.  Next, add in tomatoes, crumbled bacon, and other veggies of choice.  Finally, top with feta cheese.  We bring our dressing in a smaller jar.  We love that we are helping the planet as well as having the coolest lunch containers ever!
Decorating jars with burlap is the "in" thing.  It doesn't matter if you live in the country.  People are drawn to the chic and shabby look of burlap.  When using burlap, the effort is small; the result is fantastic.
Picture this:  your pantry is organized and looks amazing.  Canning jars are the best storage option for food.  Glass always wins over plastic.  Plus, you can SEE what's inside a clear jar.
Another clever use for jars is to take up canning the old-fashioned way and have delicious, healthy options in the pantry year-round. There is pride in knowing from where you food came.  There's also beauty in shelves stocked with food you preserved.
Some non-food options for using Mason jars include our favorite use – cupcake liner storage. No more disappointment when your liners are crinkled and crushed!  Cupcake liners are not the only thing that benefits from storage in jars.  Corral your pens and pencils.  Even erasers look awesome in a jar!  How about using Mason jars in the bathroom?  Oh, yes!  Barrettes, Q-tips, floss sticks, oh, my!  You get the picture.  While we're talking bathrooms, you can also DIY your own soap dispenser!  A homemade lemon sugar scrub makes an awesome gift for someone special.
Even MORE Ideas!
Need more Mason jar ideas?  Here you go.  Dining table decor such as mini gardens and candle holders are perfect for hosting the in-laws.  Potting up some herbs will please the eye as well as create a wonderful scent.  Guests will be impressed by your attention to detail.  Again, think burlap.  Citronella candles are a wonderful option for keeping the bugs away when dining outside.  Fancy up a candle but putting it in a Mason jar.  Glow jars are a fun project to keep the yard bright for summer cookouts. Keep the party going with Mason jar string lights for a statement piece that everyone will ask about!
Before we forget, Mason jars are perfect for leftover paint storage.  The jars seal tightly keeping paint from making a mess.  This also preserves paint longer.  Crafters love using them as yarn dispensers.
Involve the Family
Are you hosting a sleepover and need an idea to occupy the wee ones?  Have the kids make stained glass jars as holiday presents for their teachers or parents!  A moss terrarium is a neat project for the kids that brings life into the house.  Take a nature walk and have everyone collect items for their own jar.  Hey! Make one of each for yourself.  Possibly you're looking for an adult project?  Try your hand at making DIY sconces!
To make your life a bit easier, use jars as air fresheners! Keep this carpet freshener handy under the sink for a quick refresh.  Stash a small Mason jar under the seat in your car.  If you live in a warm climate, this will make your vehicle smell amazing!
Finally, these options are only scraping the surface of endless possibilities. Who knew that something as simple as a canning jar could have such variety! Sisters Know Best is always looking for new ideas. Share your Mason jar projects with us.  We love to be inspired!
Handy Items for Mason Jar Crafts
The following items are Sisters Know Best's favorites for Mason jar ideas.  None of these are expensive.  They are easy to find.  So, there you go.  Nothing should hold you back from whipping up some crafts!
Burlap
– we cannot say enough about burlap!  Grab some and you'll find hundreds of  uses for it!
Buttons for crafts – 
a button a day
… well, almost!  Buttons make the world a better place.  They just do.
Tealights
– an inexpensive way to bring light to your life!
Glue gun
– the tool every crafter NEEDS!  We love this one!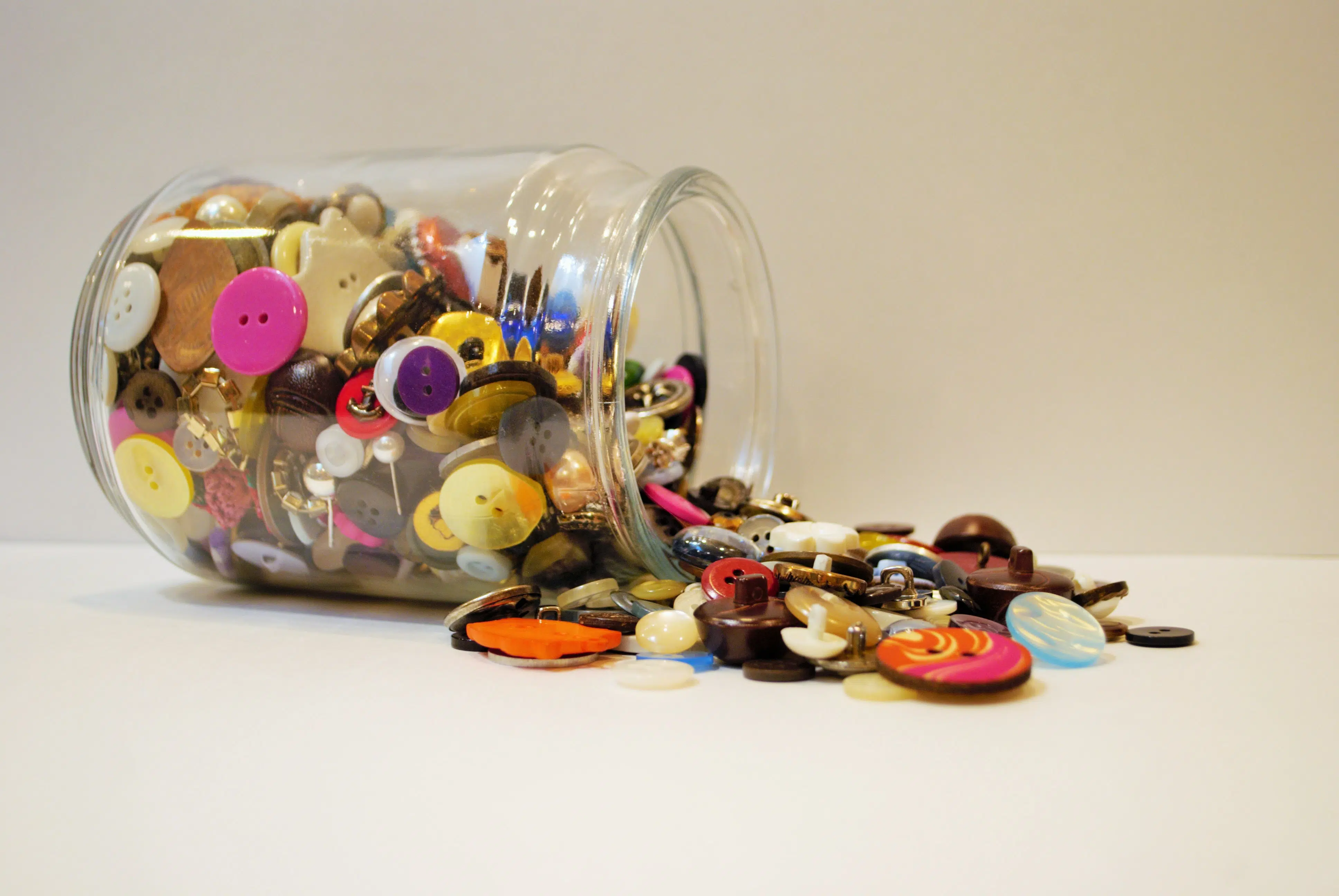 Extra Mason Jar Ideas
Below we share more ideas for using canning jars.  Plus, we've grouped them into easy to find sections.
Food:
Below is a sampling of foods to store and serve in Mason jars.  When planning your next party, consider how attractively a meal in a glass jar will be.
Minestrone soup
Salad
Pie holders
Mud pie
Layered Raspberry brownies
Pizza in a jar
Ice cream kit
Storage/Dispensers:
Again, using glass for storage is always a better idea than plastic.  Glass doesn't break down like plastic.  And unlike plastic, glass doesn't harbor odors.
Herb Holder
Toothbrush Holder
Twine Dispenser
Spice Rack
Tissue Holder/Dispenser
Sewing Sorter/Organizer Kit
Toothpick Dispenser
Matchstick Holder
Coffee Creamer Dispenser
Magnetic Mason jar Storage
Pencil Holder
Utensil Caddy
Drink Tumbler
Cocktail Shaker
Salt Holder
Spice Shaker
Lighting/Decor:
When we think of Mason jars, we think of rustic.  But we are wrong!  Canning jars are the most popular and versatile vessel for decor.  It matters not whether you like country or modern.  These jars work!
Lantern
Mason Jar Vases
Lamp base
Marquee light display
Hanging candles
Welcome sign
Vanity light
Picture frame vase
Picture frames
Solar lamp
Kits/Gifts:
Canning jars are keepers.  And they are useful.  Durability, functionality, and class are combined in a simple glass jar.  Who will not love them?
Manicure Kit
Nail polish remover kit
Hot cocoa bar
Cookie mix gift
Christmas scents
Snow globe
Travel bank
Poured candle
Party favors
Beach in jar terrarium
Travel time capsule
Outdoor:
Have we mentioned that canning jars are tough?  Yes, they are!  Think about it.  Canning jars are made to withstand pressure.  Lots of pressure.  Remember their original purpose?  Preserving food!  And doing that under pressure!  So do not think for a minute that using glass outside is a bad thing.  Surely, it is not.  Especially when they're Mason jar glass!
Plant Labels- made from Mason jar lids
Birdfeeder
Outdoor chandelier
Tiki torches
Cleaning:
Okay.  We know what you are thinking.  This is a fun post.  And now we are talking cleaning.  Well, if you have to clean, you might as well make it fun!
Holder for Stainless Steel Rags
DIY Laundry Detergent
In the Home:
If you are looking for something to bring fun to your home, Mason jars will do it!  They'll pop some fun into your life.  At a low cost.  With minimal effort.  Why not, right?
Mini Blender/Shaker
Planter/flower vase
Lid coasters
Powdered sugar shaker
Well, these Mason jar ideas should keep you busy regardless of the time of year!  If you're wondering the best place to buy Mason jars, we think thrift stores rule.  Recycling is important, after all.