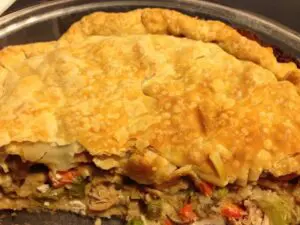 One of the best parts of Thanksgiving and Christmas are the leftover turkey recipes! My favorite of several is my easy Turky Pot Pie recipe. It's wholesome ingredients add comfort to the cold months ahead… if it lasts that long. In my house, it doesn't stand a chance!
Ingredients:
3 cups frozen peas and carrots (small package)
1 cup frozen green beans
1 cup celery, chopped
2/3 cup butter
2/3 cup chopped onion
2/3 cup flour
1 tsp salt
1 tsp black pepper
1/2 tsp celery seed
1/2 tsp onion powder
1/2 tsp Italian seasoning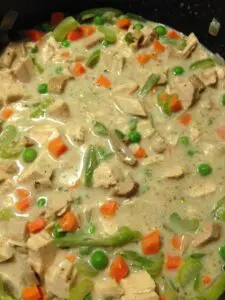 1 3/4 cups chicken broth
1 1/3 cups milk (fat free is fine)
4 cups bite size turkey meat
2 packages premade pie crust (4 crusts) or Bisquick mix (see below)
Directions:
Preheat oven to 425°.
Place chopped celery, peas, carrots and green beans in saucepan. Cover with water, boil and simmer for 9 minutes.
Drain vegetables and set aside.
Saute onions in butter for 5 minutes.
Mix together dry ingredients.
Mix dry ingredients in to onion and butter mixture.
Next, whisk chicken broth and milk in.
Simmer and stir until it thickens.
Remove from heat.
Stir vegetables and chicken in.
For pie crust topping:
Fit pie crust in to bottom of 9″ pie dish.
Put half of mixture in each pie dish.
Cover with remaining crusts.
Seal edges of top and bottom crust together. Cut slits in top of pie to vent.
Cover edges with foil.
Bake for 15 minutes and remove foil.
Bake another 15-20 minutes.
Cool before serving.
For Biscuit topping:
Place mixture in a 9×13 baking dish.
Prepare Bisquick for biscuit recipe.
Place "blobs" on top of the mixture.
Bake for 20 minutes uncovered.
In my family we have one person who loves pie crust and one who loves the biscuit topping. I make one pie and one 9×9 baking dish with 1 serving of Bisquick biscuit mix on top. I put the pie in and when I take the foil off, I place the baking dish in. Everyone is happy!