Roasted Fingerling Potatoes & Asparagus with Thyme is a taste buds delight! I first got this through Blue Apron. One of my favorite parts of Blue Apron meals is that sometimes they put together basic ingredients that you would never think would work or would amount to much. Potatoes & Asparagus with Thyme. Seriously, who would have thought?
We are consistently blown away by the service and all the interesting recipes we get to try. And I love that we are RESPONSIBLE for making them. Creation is the spice of life, but working in the kitchen can be challenging sometimes. If you haven't tried Blue Apron yet, click this link to get their  3 Meals Free on Your First Blue Apron Order (affiliate link – that means if you try it through our link we make a little bit of money) deal. This side dish is 0 Weight Watchers smart points also so it's a win-win!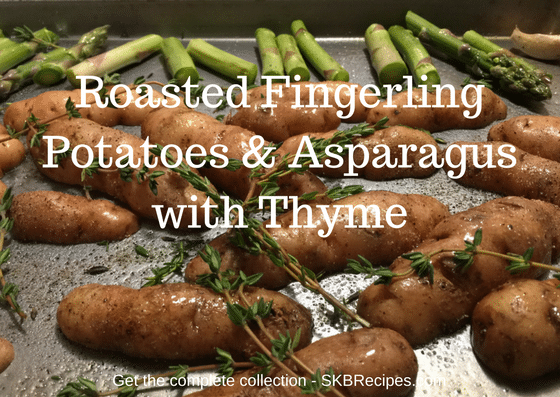 Roasted Fingerling Potatoes & Asparagus with Thyme Goes With Anything
This delicious side dish is perfect with chicken, steak or fish. The flavors are light enough to pair with most other herbs and spices, yet powerful enough to stand on their own. You'll definitely want to make enough for leftovers since these great cold or reheated for a snack. I was surprised at how much the whole family enjoyed this healthy side dish. They were begging for more!
I wouldn't have thought to pair asparagus and potatoes in the same dish, with any herb, but they work incredibly well together here with the thyme, salt, and pepper. I'll definitely be making this again, even if Blue Apron doesn't send it again anytime soon. Try it for dinner tonight and let us know what you think!
What other interesting combinations have you made in your kitchen? How did they come out? We'd love to hear about your kitchen adventures! And who knows – we might just feature your recipe!