Chaga Chai Pumpkin Pie will kick your Thanksgiving up a notch!  Adding some chaga with chai spices to this seasonal pie has no impact on the flavor and packs it full of amazing health benefits. 
Health Benefits of Chaga
Chaga has been used in Eastern medicine for centuries. In the West, we're now beginning to understand the health benefits of this superfood mushroom. 
Immune support

 

Beta-D Glucans speed up or slow down the immune system as necessary

 

Cancer prevention

 

Activates cells involved in combating cancer initiation

 

Pain relief

 

Supports integrity of blood vessels

 

Support gastro-intestinal health

 

Soothes ulcers and gut inflammation

 

Normalize blood pressure and cholesterol

 

Breaks down LDL (the bad cholesterol)

 

Anti-microbial

 

Protect DNA from damage

 

Antiviral

 

Protects skin from harsh blemishes

 

Antioxidant

 

Highest ORAC score of any superfood

 

Reduces free radical in the blood

 

Improve diabetic health

 

Reduce inflammation

 
Where Does Chaga Come From
Chaga grows on birch trees in colder climates and requires proper harvesting to prevent damaging the tree. You may have seen it while out walking. It looks like a large, bumpy node projecting out from the trunk of the birch tree. If you didn't know it was a mushroom, you might think the tree is sick. Really, that node is a powerful healing mushroom!
 A company in the northern woods of Maine ships chaga chunks directly to you. They're perfect for this chaga chai pumpkin pie recipe – or anything else you want to make with chaga. Maybe serve a cup a chaga chai tea with this amazing dessert?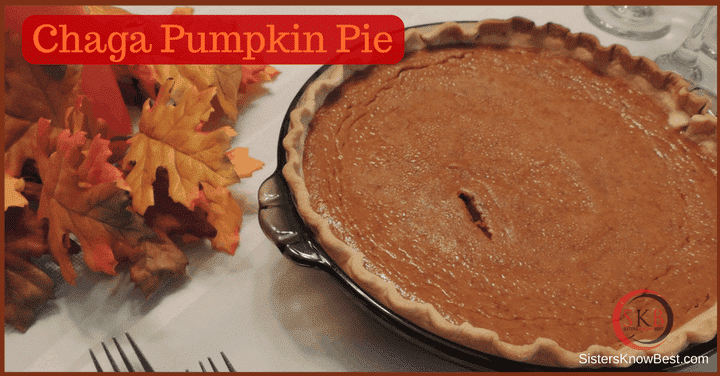 To begin, combine all ingredients (except the crust!) and stir until mixed well.

Heat oven to 375 degrees.

Next, place pie crust in a deep dish pie pan and bake the crust for 10 minutes.

Remove the crust from the oven and pour the chaga chai pumpkin pie filling into it.

Now return the pie to the oven and bake for 40-50 minutes. To test if your chaga chai pumpkin pie is completely cooked, be certain the pie crust edges are browned and the filling jiggles a little.

Finally, transfer to a wire rack and cool completely.
*Making your own pumpkin puree is easy.  First, cook your pumpkin by roasting or boiling.  Then you simply mash and smoosh until your pumpkin is pureed.  Easy!  Of course, some people prefer the convenience of pumpkin puree in a can.  That's fine as well!
**If you don't have evaporated milk, you can substitute by making your own.  Add 1 cup of dried milk with water to make 1-1/4 cups of evaporated milk.
*** We recommend www.buychagamushrooms.com
Chaga Chai Pumpkin Pie Recap:
Your Chaga Chai Pumpkin Pie can be stored for up to 4 days in the refrigerator.  However, we're sure it'll be gone in one sitting!
Chaga Chai Pumpkin Pie tastes wonderful on its own or topped with whipped cream or vanilla ice cream.  Don't forget – it's got superfood in it as well!