Here's a sure way to get your trick or treaters in the mood for Halloween. This easy Monster Mummy Meatloaf Halloween Dinner recipe puts a different presentation on a homecooked meatloaf full of hearty nutrition.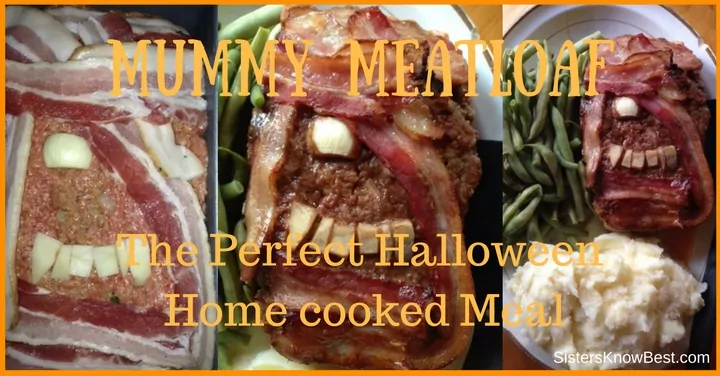 When we first saw this, the thought was "interesting". But as Halloween approached, the thought became "We have to do this"!
Mummy Meatloaf will be the focus point of your party.  It is easy to 'whip' up.  Can be kept warm easily if you're off with the kids collecting candy.  Plus, it will offset all that sugar!
We love this bread pan for our meatloaf.  But you may decide to try another shape for your mummy.  Maybe a circle?  This might sound odd, but use spaghetti for hair?  Or even a square would work.  Doesn't a square shape make you think of Frankenstein?  That totally will work!  At Sisters Know Best, we encourage playing with your food!  Speaking of, we bet picky eaters will enjoy this too!
Be sure to check out our other Halloween ideas! And as always, we would love to hear about YOUR Halloween traditions!