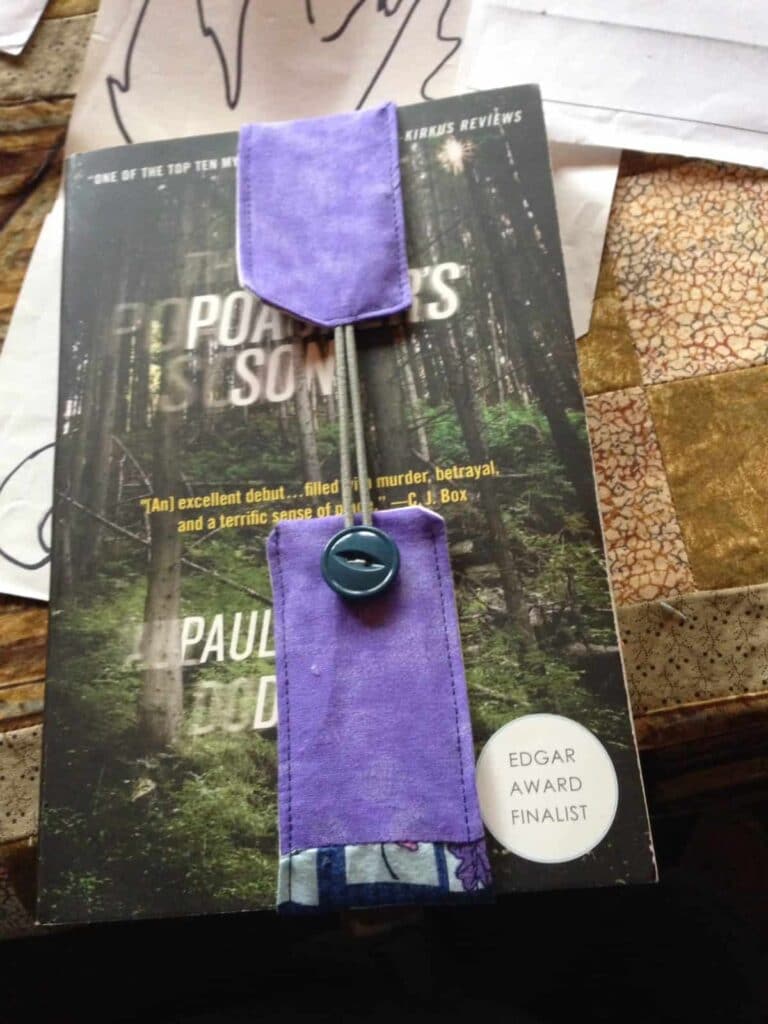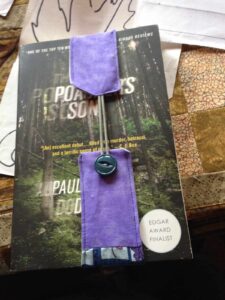 Awhile ago I saw a pin on Pinterest for how to make your own fabric bookmarks using every day items like buttons and hair ties and scraps of cloth.  I should have pinned it. I didn't. I thought about it this morning as I went to put my book down and decided to make up my own design.  It's easy, fun, and limited only to your imagination!  Think quick DIY gift idea or easy craft with youngsters or for book lovers… Birthday party craft…  Rainy day project…  You get the idea!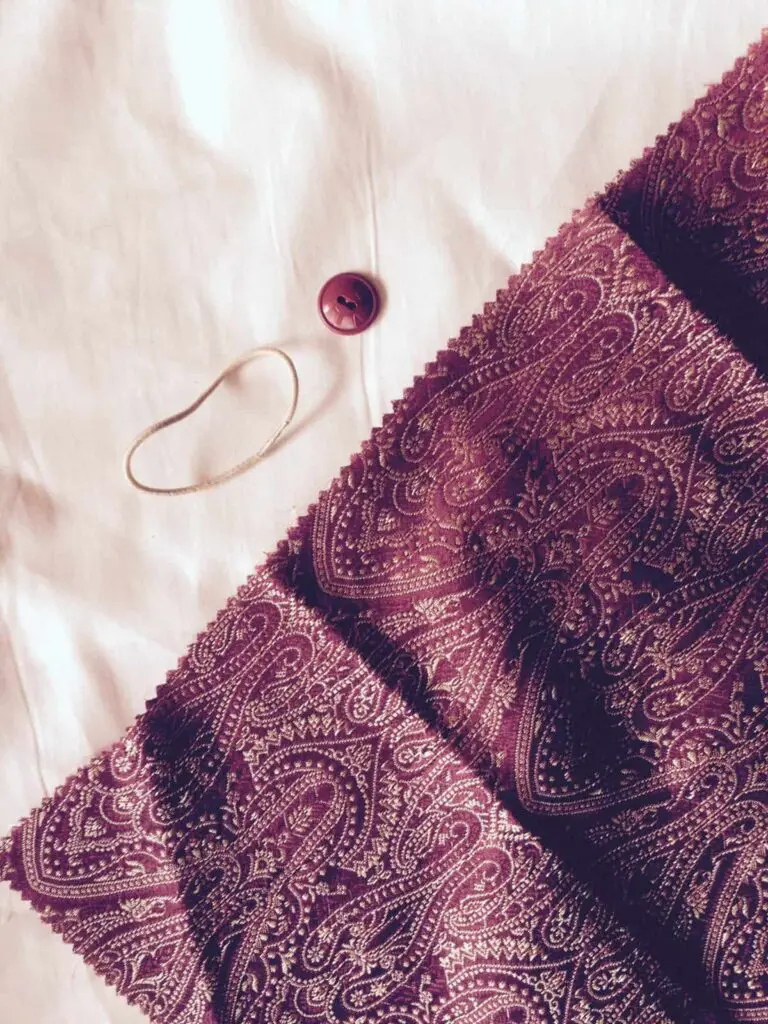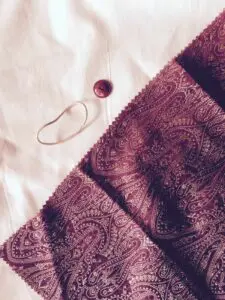 You will need:
Focus fabric (I have used cotton and silks.  You could use anything you have on hand.  Wool?  Burlap?)
Backing fabric (Contrasting or not — you choose!  I used muslin.)
One button (Pick something special here or a discarded one you always meant to sew back on….)
Elastic hairband (The kind you can buy in quantities of a hundred at a dollar store.)
Sewing machine and sewing supplies.
Directions:
Cut your Focus and Backing fabrics approximately 3″x16″.  This size is an estimate.  You choose if you want a wide Banded Bookmark or something slimmer.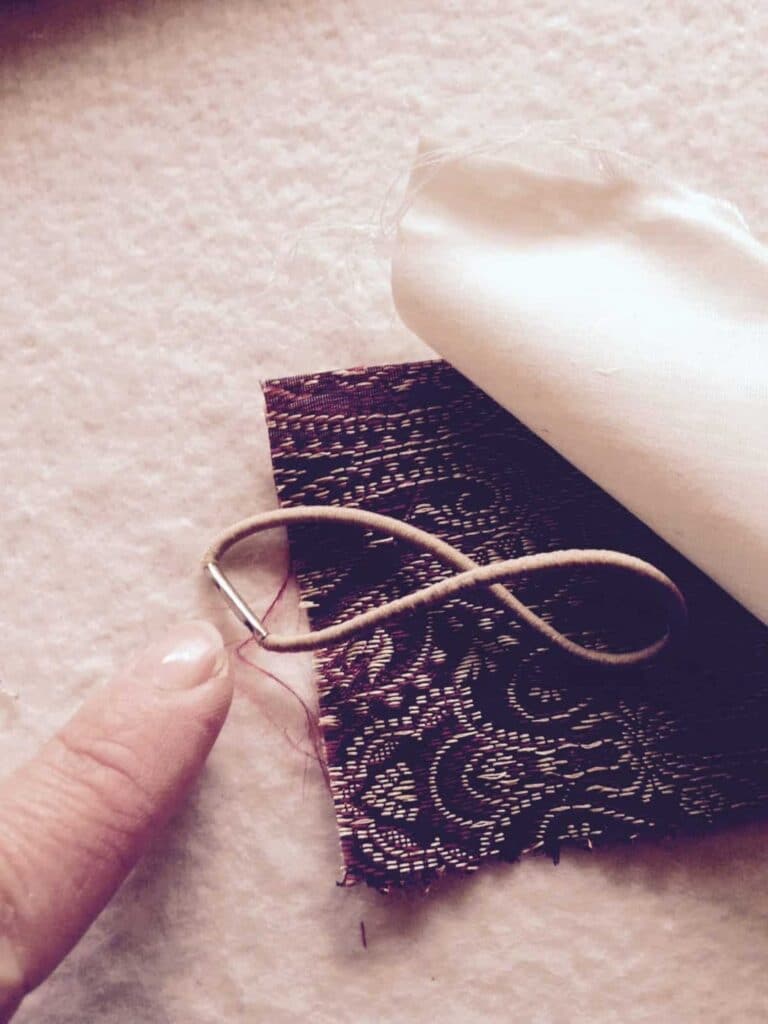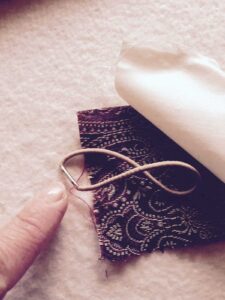 Place right sides together.  On one short end, insert all of elastic hairband but a small section with the metal tab.  Sew across this end carefully avoiding the metal tab or you'll break a needle and maybe throw your sewing machine's timing off!  Seam allowance is your choice.  If you make your Banded Bookmark too narrow, it will be hard to turn.  I used the width of my presser foot.  PLEASE NOTE: Leave a 2.5″-3″ gap in your sewing on one long edge allowing you to turn this rectangular tube inside out.
After turning, poke out the four corners and top stitch around all four sides.  Top stitching with your machine eliminates the need to blind stitch the opening you had for turning.  You could use a decorative stitch here!  Remember to be careful on the end with the metal tab for the hairband!  (** I started at the elastic hairband end on a long side and sewed around three sides.  I did NOT sew the elastic end.  There's no need. **)
Sew your button on the other end.
Wrap your band around your book and secure your page with the elastic over the button.  DONE!  How easy is this???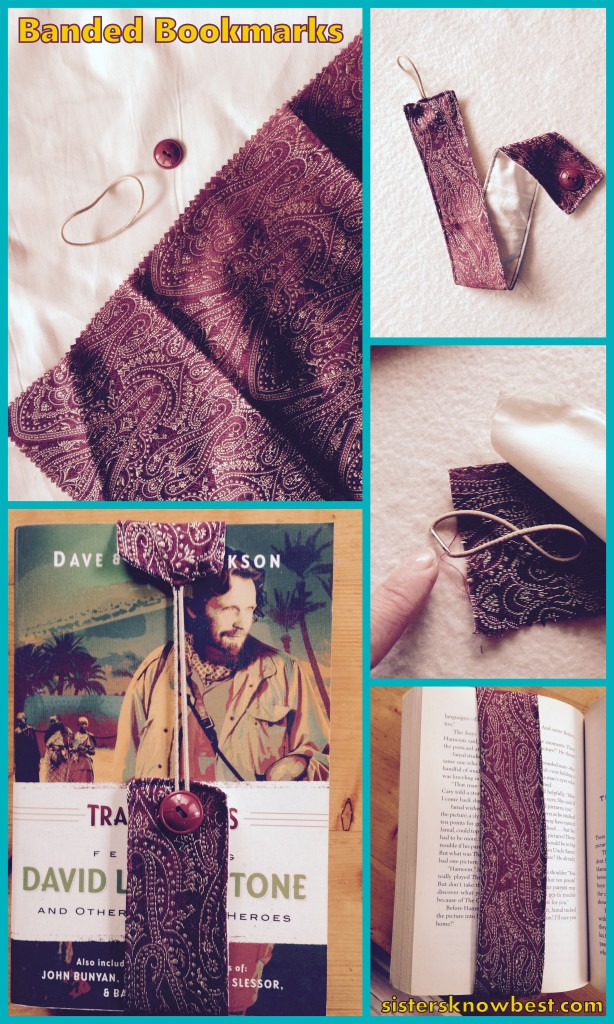 Further ideas:  Coordinate colors for someone's college, add a pencil/pen pocket to the front – or Velcro!  Hey, you could make these longer for larger textbooks.  Or cookbooks!  Fabric choices are extreme.  Find different textures or go scrappy!
Have fun and SHARE YOUR PHOTOS!! And of course, Share US with your friends!