Crockpot Meatloaf smells delicious as it cooks all day! This is one of the easiest freezer crockpot meals to make as you don't need to brown the burger first. My daughter had never had meatloaf until this and now it's a requested meal. I'm happy to oblige since it's got wholesome ingredients and is easy to make!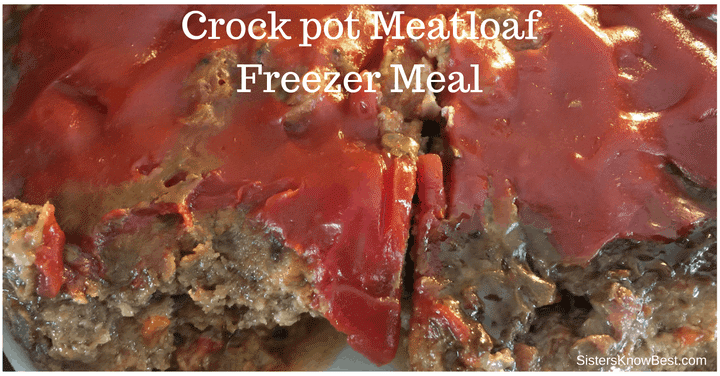 Meatloaf for the slow cooker is great for batch preparation. I usually make 5 at a time and freeze them. When you freeze yours make sure first to smoosh all the ingredients around in the bag to help mix them up and then shape the bag in a block instead of laying flat like you typically do for crockpot freezer meals. I do this because I don't have to thaw out the package first so I just drop it in and go about my day.

Place all ingredients inside freezer bag.

Mush thoroughly inside the bag.

Do not lay your bag flat. Try to shape the meatloaf inside the bag so it will fit inside your crockpot.

On cooking day, put the frozen meatloaf in crockpot. If you did not freeze your meatloaf in a block that fits in your crockpot, place aluminum foil around the meat with cover off for about a half hour until you are able to push the meatloaf down in to the crockpot.

Cover meat mixture with ketchup. Try barbecue sauce or salsa for a variety!

Drain grease or scoop out meatloaf and let drain on paper towels.
My husband never used to like meatloaf. Now this is one of our go to recipes, ESPECIALLY during winter months. It smells amazing during the day and then when we are tired at the end of the day, it's ready to go! Typically we serve this with a side salad so no baking at all!
There are so many variations for meatloaf. Check out this Halloween meatloaf idea. What's your favorite meatloaf recipe for the crockpot or otherwise?