At the launch of their Clean Future strategy, President of Unilever's Home Care division Peter ter Kulve said that as an industry, they need to break their dependence on the fossil fuels used in their products. Unilever intends to alter the way cleaning and laundry products are made and packaged, and to replace fossil fuel ingredients with renewable sources by 2030. Their biggest laundry brand, Rinso, recently got a makeover and is now formulated with plant-based stain removers and packaged in recycled plastic. The greater demand from consumers for sustainable products has also led to the launch of the first laundry capsule that uses recycled carbon emissions. Waste gas from a steel mill is captured and turned into a cleaning ingredient, creating a product that will offer peace of mind to mothers who prefer non-toxic detergents.
Chemical Laden Cleaning Products Are Getting The Boot
Covid has made hygiene a priority, and consumers are seeking green products over those that could have adverse effects on the health of their children and the planet. In response to this need, Unilever created their pH-neutral disinfectant, using 100% biodegradable formula and packaging called BotaniTech, which they have launched globally.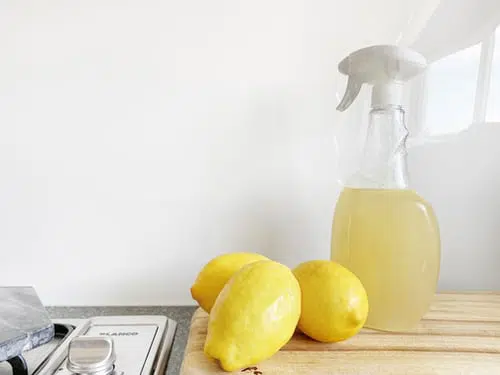 A Danger Lurking At Home
This eco-friendly trend has been taken up by a group of teenagers in Salinas Valley, CA, who, working alongside scientists, wanted to show that using green cleaning products reduces our exposure to toxic chemicals. They found that green cleaning products reduce a person's exposure to as many as 17 different chemicals, including benzene and chloroform.
The students noted that using green products led to a drastic reduction in chloroform exposure, which highlighted the fact that we're not aware of the extent to which potential carcinogens and hormone disruptors can harm us and our children. Keeping kids safe from harmful household chemicals no longer means simply locking the bleach away or putting the oven cleaner on a high up shelf. The use of these chemicals is where the danger really lies, and swapping to eco-friendly alternatives is essential.
Unilever – The Safe Option
If you're not sure where to begin and how to tell what products are safe, start by reading labels. This ensures that you choose products with fewer additives and chemicals that can harm the environment and your kids. The first step is to learn the lingo. Sodium bicarbonate cuts through grease, sodium percarbonate helps to whiten stuff, hydrogen peroxide is a disinfectant, and citric acid is a plant-based stain remover and general cleaner. Avoid ingredients with the words chlorine bleach, fragrance and ammonia, as these are highly toxic.
If you're a purist and you want products that present no danger whatsoever, you create your own. Key ingredients usually include baking soda, hydrogen peroxide, vinegar, lemon juice, and rubbing alcohol, and offer the same great results as a store-bought cleaner.
Unilever is leading the way with commercial green cleaning products, so whether you opt for commercial cleaners or make your own, whatever you do, ensure you keep your kids safe!