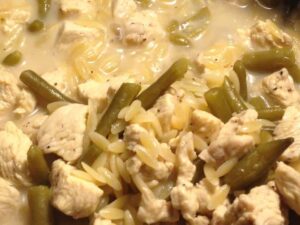 My family LOVES this recipe! My boyfriend's daughter loves the Lemon Chicken Orzo Soup from Panera Bread so when I saw this recipe, I had to try it! I changed the ingredients a little bit and we fell in love! Now it's a once a week recipe for us.
No complaints here since it's also on the healthy side of things!
Here's what we did:
Ingredients:
4   
boneless, skinless

chicken

breast halves, cubed
1/2  teaspoon 
each salt and black pepper
16 oz (half of large container)
chicken broth
1/3  cup 
lemon juice, I go a little over 1/3 because we like lemon
3  tablespoons 
low-fat sour cream
8  oz can 
green beans, drained
2 cups water
Directions:
Cut chicken into 1-inch cubes. Sprinkle with 1/4 teaspoon each of salt and pepper.
Pour broth and lemon juice into a Dutch oven. (I don't own a dutch oven so I used a large pot and stirred often)
Bring to boil and add chicken.
Cover and reduce heat to medium.
Cook for 9 minutes or until chicken is cooked through.
Remove chicken from pot; set aside.
Increase heat to high and cook sauce for 5 minutes to reduce.
Stir in remaining 1/4 teaspoon each salt and pepper.
Whisk in honey and sour cream.
Add 2 cups water to pot and bring to a boil.
Add orzo and cook for 10 minutes or until pasta is tender and most of the liquid has been absorbed.
Add
green beans
to pot for final 4 minutes of cook time.
Stir chicken back into pot and serve.
The first time I made this, it seemed like a lot of timing but there is no real exact science to it. Just try to be close to the times suggested above.
What are some of your favorite recipes made with orzo?