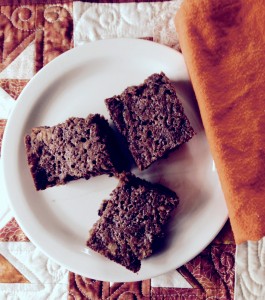 Ha ha!!  Healthy and brownies in the same title!  My sister Chris challenged me to come up with a healthy brownie recipe a few weeks ago after she published her own healthy brownie recipe.  She nailed it when she said that I'm an organic, natural kind-of person.  I like that she makes me think and urges me outside my comfy box, but — gee, I've got stuff going on and little time to come up with a wa-zoo recipe!  Ah, the pressure….  Tis the season for pumpkins, however; and adding veggies to dessert makes it healthy automatically, in my opinion.  Right?  Right?
Anyway, following is my response:
Ingredients:
1.5 C flour (I used 1/2 C whole wheat and 1 C white)
1 tsp baking powder
1 tsp salt (use sea salt!)
1 C pumpkin
1 C butter  (I used 1/2 C butter and 1/2 C applesauce — fruit!!!)
1.75 C sugar (I use turbinado)
3 tsps vanilla extract (make your own vanilla extract using vanilla beans and vodka)
5 large eggs (from a neighbor)
1/2 C cocoa powder
1 C chocolate chips (carob chips if you have them!)
1 C chopped walnuts
1.5 tsp cinnamon
1 tsp nutmeg (grind your own and enjoy how potent the aroma is!)
Directions:
Preheat oven to 350°.
Grease a 9×13 pan.
Put all dry ingredients (except chocolate chips)  in sifter .
Place wet ingredients in large mixing bowl and whisk together.
Add dry ingredients to wet.  Mix.
Stir in chocolate chips.
Pour into pan.
Bake in oven approximately 40 mins.
These are soooo gooey!  And yummy!  And healthy!  Right?
What do you think?  Let me know!