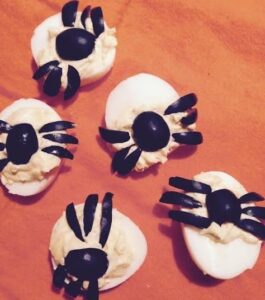 Fun, fun, fun! These yummy appetizers are a great addition for any Halloween party! Deviled eggs are one of my favorites at any party I go to. They are so easy to make that I usually volunteer to bring them. With this cute affordable idea, I can't wait for the Halloween party this year! Guaranteed to be a hit!
Here's what we did:
Ingredients:
6 large eggs
6-8 black olives
1/4 cup mayonnaise
1 tsp vinegar
1 tsp mustard
1/8 tsp salt
black pepper to taste
Directions:
Boil eggs for 5-7 minutes.
Meanwhile, slice black olive long way in half.
Take one half and slice long way in to
l in water and peel.
Slice the eggs the long way.
Empty yolk in to a bowl.
Add mayonnaise, vinegar, mustard, salt and pepper to yolks.
Mix well.
Fill the holes in the egg where the yolk was with the mixture.
Place half of black olive on top of the mixture.
Use the slices of black olive to make 6 legs, 3 on each side.
That's is! Refrigerate until ready to eat and watch your guests as they shriek!
Check out our Halloween Crafts and Recipes page for more ideas!
If you haven't yet, like us on Facebook for more great recipes and crafts!