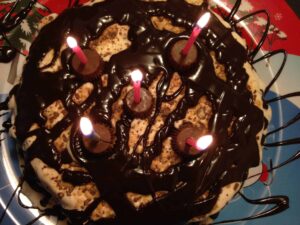 Every year Bill's daughter asks for ice cream cake for her birthday. This year, I decided I would make one for her. I browsed Pinterest for some of the best and saw a couple different ideas. This is how I cook and create anything I do. I compare a few ideas, take the parts I like and concoct what works for me. And this Reeses Brownie Toffee Delight Ice Cream Cake was AMAZING! The entire family loved it! All 3 of us participated in the creation but it was extremely easy to do. In our house we believe in affordability, ease, and taste and for a 13th birthday celebration TASTE is priority. This has all we were looking for and was success!
Here's what we did: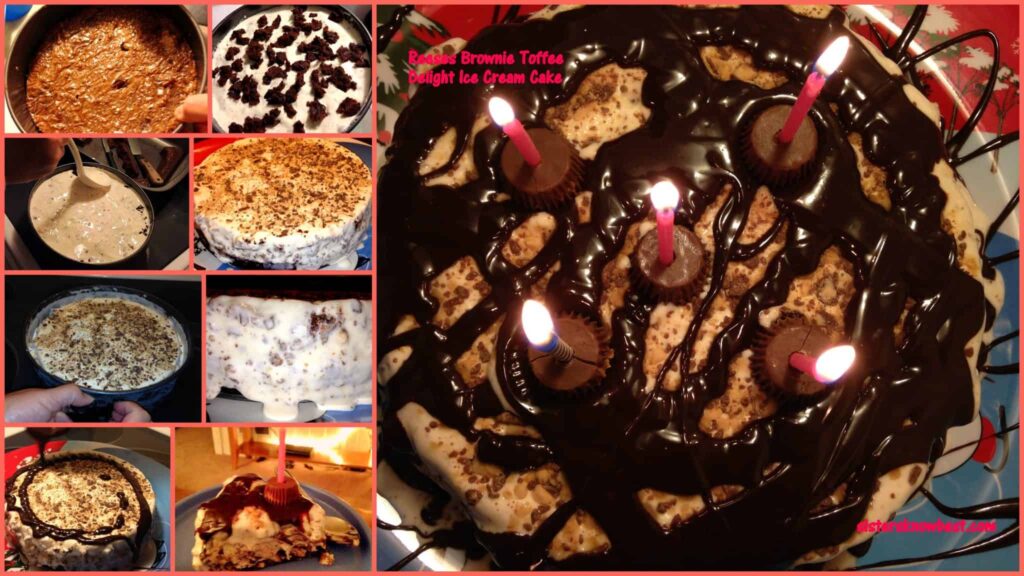 Brownies:
18×26 jelly roll pan
2 Family size brownie mixes
4 eggs
1 1/3 cups oil
1/2 cup water
Ice cream Mixture:
Spring Form pan
1 1/2 containers of 1.5 quart vanilla ice cream
1 Family bag of Reeses miniatures, 6-8 reserved
1 1/4 cups English toffee bits, 1/4 cup reserved
1 small container of hot fudge – 11.75 oz
6 candles, optional
Directions:
Make brownies according package in the 18×26 jelly roll pan.
While brownies are baking, chop up all but 6-8 of Reeses and place in bowl.
Add 1 cup toffee bits to mixture.
Take ice cream and leave on counter.
Once brownies come out, place in the refrigerator to cool for about 1 hour, until completely cool.
Just before taking the brownie out, scoop 1 1/2 containers of ice cream in to the bowl of candy mixture and mix thoroughly.
After brownies are cool, place spring form pan upside down on to brownies and press firmly enough to show marks on the brownies.
Cut a circle using the impression from the pan and then scoop out the complete circle of brownie, trying not to break it but it's okay if you do.
Place the brownie in the bottom of the spring  form pan.
Spread the ice cream mixture on to the brownie, about 3 inches.
Next, crumple some of the remaining brownie on top of the ice cream.
Cover crumpled brownie with a smaller layer of ice cream mixture, just enough to cover.
Sprinkle the 1/4 cup reserved toffee bits on top.
Cover with tinfoil and freeze.
When ready to serve cake:
Remove from freezer 30 minutes before serving.
Just before serving, heat hot fudge in microwave, checking every 15 seconds and stirring.
Once hot fudge is liquidy texture, drizzle on top of cake.
Place reserved Reeses on top of cake.
Note: If using for a birthday, flip Reeses upside down to easily place candles in the bottom of them.
Store leftovers in the freezer (if there are any!)
For other great recipes and crafts, visit us on Facebook or Pinterest! And as always, don't forget to share!
 What's your favorite flavor ice cream?