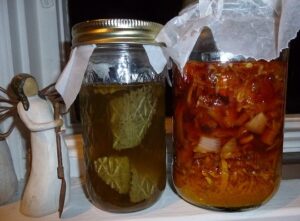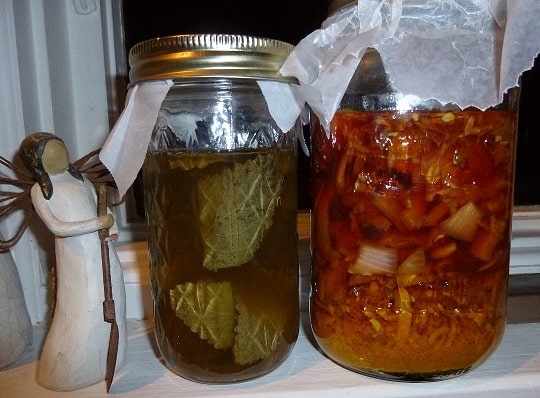 On my windowsill above the sink sit jars of Fire Cider and herb flavored vinegar. Now is the time to start these if you want them ready for gift giving during December.  Fire Cider may be used daily as a kick-start to your day.  A teaspoon – tablespoon should do the trick.  It may also be used to help your body fight common colds.  One sip will heat your insides!  Herbal vinegar is a fun ingredient for salad dressings or marinades.  Let your creative mind play with what herbs to use.
The Dragonfly Fire Cider was made at an herbal class in which everyone brought ingredients which were chopped, diced, grated, and placed in canning jars.  The jars were then filled with raw apple cider vinegar. I recommend using organic nutrients to ensure the best nutrients for your cider.  Each day I will shake the Fire Cider for three to four weeks.  After that time I will strain off the liquid and add honey to taste.
DRAGONFLY FIRE CIDER RECIPE
5 Cloves chopped Garlic
1/4 Cup Grated Ginger
1/4 Cup Grated Horseradish
1 Small Onion Chopped
1 tsp Cayenne Pepper
1 Orange Chopped (with Rind)
1 tsp Turmeric
For the vinegar, place your cleaned, fresh, organic herb in a pint or quart sized jar and cover with apple cider vinegar.
Make sure to place the Fire Cider and vinegar  jars strategically so you remember to shake them every day.  After four weeks, you can strain your creations into lovely gift vessels.  My cupboard holds some tinctures of Echinacea and Valerian which were made in a similar fashion using 100 proof alcohol.  Let your creative side out and enjoy!!
I'd love to see pictures or read your ideas on our Facebook Page.  Please share!!